Let 'Em Know
Houston Dynamo
Who?
HOUSTON DYNAMO

Eat it New England. Three straight losses in the MLS Cup and the last two you got done in by who? Houston Dynamo! Who? HOUSTON DYNAMO! That was one helluva game. I just don't see how a general sports fan can't get caught up in a game like that between two very, very good teams who are both so aggressive. Just fantastic stuff and I can't wait to embark on the road to the three-peat.
Who Dat
I heard from the announcer that his name is Mario Williams. I'm not sure when or how Houston acquired him, but that #90 looks like he might just work out. That is if he can play like that on a week-in, week-out basis. My understanding is that Mario has had a problem playing with a consistently high motor. The rest of the defense played like mad men as well despite no Dunta. The only Texan who might want to forget Sunday was Joe Echemandu. Everyone else was fantastic from Ronnie Dayne to the Andres to Schaub to Fred to Will to the offensive line to, aw hell to Petey Faggins. Not one time did I see Petey running after some receiver on his way into the end zone. Congratulations. As bad as they've looked at times bottom line is 5-5 ain't bad considering everything this team has had thrown at it.
Quick Hitters and Random Thoughts
--Jeff Garlin from
Curb
did his part for the writers on strike. Jeff went to a rally, pulled out a big box, told the picketers that he had something for them since they had free time on their hands now and then Jeff proceeded to pass out porn dvds. Love that guy.
--I guess until last Saturday I hadn't seen the music video intro for the Saturday night game on ABC. Yeah, Perry Farrell, um what the hell?
--I like her, but Maxim naming Sarah Michelle Gellar its 2008 Woman of the Year seems a bit ummmm, stupid. She does play a porn star in one of my most anticipated movies, Southland Tales, but other than that I have no idea what she has going on. You know who has it goin' on? Yeah, that's right Bret has got it goin' on...
--Things I Learned From My Master and Teacher, Television, This Week...
Michigan/Ohio State began their rivalry six years before the first World Series. It took until the 16th meeting before the Buckeyes first got over on the Wolverines.
Heroes
-A Mexican brother who has a sister who has a runny mascara problem can bring an outstanding show to a screeching halt.
Weeds
-The DEA's thermal-imaging scans can pick up huge electric crosses stolen from churches as well as meth labs. (Weeds' season finale is, sadly, this week)
Just because some people think you're cute and you smile a lot doesn't mean you can cook much less host a one-hour talk show. I'm looking at you Rachael Ray.
According to a Trojan commercial if i go into a bar's restroom and purchase a Trojan I'll turn from a pig unlikely to get laid to a guy who will have his pick of skanks.
South Park
showed me the greatest operation name in history..."Operation Cannot Possibly Fail"...wait, make that "Operation Cannot Possibly Fail A Second Time", yeah that's the greatest operation name in the history of operation names.
Kelly showed me there's a difference between trash talk and smack talk.
Coach Taylor doesn't like it when his wife whisper-yells at him. And Matt Saracen has the life...he had relations with Julie, is going out with the head cheerleader and now is about to start tapping his grandmother's live-in nurse.
--I'll probably not click on any story with headlines about Boy George having a male escort chained up. Not really interested in the details.
--Yeah, if I'm a dumbass criminal in Florida and I'm trying to run from the police then I'm not diving into an alligator-infested lake. Then again I'm not Dude Whose Name Is Being Witheld By Authorities Because It Happened On An Indian Reservation. This genius was breaking into a car and then ran when he saw the cops. The cops saw him dive in, but not come out. It took hours and hours of dives, but eventually they found genius' body bearing gator teeth marks. Authorites claim they found the hungry, hungry gator which measured nine-feet long. So for some strange reason the gator was put down. I mean what do it do except defend his territory and rid the planet of one dumbass?
--In "You Lucky SOB" news: Heidi Klum is gonna institute Naked Sundays for her and Seal. Seal says, "This is the longest time I've known Heidi without her being pregnant. She's got her body back and it's real good fun!"
"Real good fun." Tell me about it...no really Seal, tell me every detail. Better yet simply film her and then you can show us.
--At first I thought a 123-22 final was crazy and I was interested in the details until the big detail showed itself. It was a women's college game.
--Serena and Common?!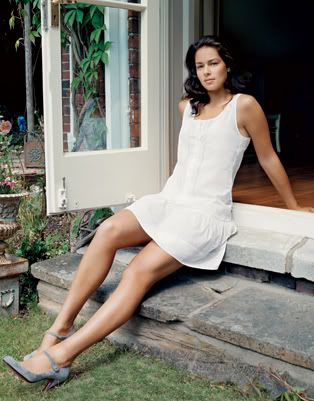 Ana Ivanovic easily hottest tennis player going...
--Seriously Letterman is going to pay his writers out of his own pocket through the end of the year?! I don't know why Leno is showing repeats, I'm pretty sure nobody writes that crap and I can't imagine who'd want credit for it.
--Jamie Oliver, The Naked Chef, is coming back to Food Network in January.
--Thankfully Kansas, Missouri and Chiefs' officials have decided to sell beer at Arrowhead during this weekend's game. I guess they don't normally do that, which obviously sucks for them seeing as how being drunk off your arse was the only way to make Kansas and Missouri watchable.
--Alcohol surely played no role in the following...
Questions, comments or if you wasted money on this past Saturday's UFC PPV...