--WTF Chris Benoit?! Your wife?! Your son?! WTF?! 0-6 vs. Pirates, 1-5 vs. Rangers…Yeah, That's About Right
Okay people, I think even the most die-hard (live free or not) of you realize this team is not good. "Not good" is putting it nicely, but I promised myself no first sentence regarding the Astros would incorporate words like "suck" or "crap." But now three sentences in I can tell you the Astros are the suckiest bunch of sucks who ever sucked now that the bullpen is a complete crapshoot (emphasis on crap). Hooray for Dan Wheeler becoming this year's version of Brad Lidge and hooray for Phil Garner for leaving him out there to be abused. We have five weeks until the non-waiver trade deadline and Houston should be moving some parts for some kids. Bye bye Mark Loretta, Mike Lamb, and anyone else not named Lance, Roy, Hunter or Carlos. You probably can't get a sack of baseballs for Morgan Ensberg, but if you throw in Orlando Palmeiro maybe. Has any team ever tried trading its GM because that could be a viable option for this team. I wonder if Tim Purpura calls other GMs and asks them if they're interested in Brian Moehler and the other general managers are like, well if we liked him we'd just call him up and sign him, he's not with anybody right and Tim has to say ummm…well actually he's been an Astro all season long.
--Apparently the White Sox have evaluated Houston prospects (that shouldn't have taken too long) in the chance that the 'Stros want to get in on the imminent Mark Buehrle trade. Wouldn't that be fun? Trade more of the already depleted youth for a free agent to be.
--The Brewers have the 2nd best home record in the Majors so yeah, this should be a fun start to the week.
--The Rockies have more wins against AL East teams than the Yankees do?!
--Two minor league promotions of note this week…On Monday the Lake Elsinore Storm celebrate Nothing Night. Nothing means nothing, from no PA announcer to no concessions, just the game and only the game. On Tuesday the Long Beach Armada honor Worst Music of All Time Night. At gametime the winner among these classics will be announced: Jefferson Starship's "We Built This City", Billy Ray's "Achy Breaky Heart", "Mmm Bop" from those crazy Hansen boys, "Rico Suave" from my boy Gerardo, "Too Legit To Quit" from Reverend Hammer, "Party All the Time" by Eddie Murphy (for you youngstas, Eddie used to be a funny stand up comedian before hitting it big with Pluto Nash), and of course, "Ice Ice Baby" from Rob Van Winkle. I'll give it to Eddie because well, you've heard it.
--Maybe you saw that Miguel Tejada's consecutive games played streak ended last week due to a wrist injury. Nice job by interim manager Dave Trembley playing Miggie out there for one inning the day after he suffered the injury just so Tejada could keep the streak alive. Nykesha Sales thinks that's weak.
--Magglio Ordonez's numbers are just sick, but so is what Derek Jeter has accomplished. Through 73 games Jeter has had three separate hitting streaks of at least 17 games. Doing that in that amount of time hasn't happened in 58 seasons. In his career he has nine streaks of at least 15 games with a hit. Two other active players are also at the top with nine such streaks? No, not Orlando Palmeiro. Yes, Willy Taveras (no, not really…yet). Vlad and Nomar.
--Tell me Reggie Jackson didn't try to check in at a New York hotel and "bitterly complained" when he didn't get the Yankee discount.
Quick Hitters and Random Thoughts
--I'm not saying Bonzi doesn't make the Rockets better. I'm just saying that if you expect him to pick up where he left off in one round of a postseason series two years ago then maybe you need to put down the kool-aid and the bong. In those six games he nearly doubled his career scoring average and averaged 8 more rebounds than what he's averaged in his career. Get excited, but also let reality sink in a little and hope that this time Bonzi comes into camp in shape and this time his attitude is much better and this time he doesn't battle injuries off and on and this time he doesn't quit on his coach via text message.
--There's no way Hung loses
Top Chef
, right? There's no way anyone wins
Hell's Kitchen
, right?
--I'm not big on baseball games, but The Bigs looks promising.
--Thank you University of Texas Health Science Center for pointing out what we all know: Study Links Hurricane Stress to Teen Smoking. D'uh. Seriously, WTF and WhoTF paid for this?
Oh, to be an award-winning film editor.
--TBS is going to start running
The Office
and
My Name is Earl
reruns in the fall. Everyone knows Office rules, but give Earl a shot if you haven't already.
--Final Destination: Feet Edition occurred last Thursday at the Six Flags in Louisville . The "Superman Tower of Power" is kinda like Sky Screamer (moment of silence for all of us who put pennies on our knees to watch the show…). When the ride lifted to 177 feet some cable snapped and whipped around inside where the riders were. Everyone lifted their legs except for one 16-year-old girl whose feet were severed at the ankles. Six Flags is about to lose a helluva lot of money.
--OK! is paying $2 million to photograph Tony and Eva's wedding?!
--Sadly I'm sure you heard the following news before hearing any updates on Iraq or Sudan or other such trivialities, but Kobayashi is out of the July 4 th Coney Island Nathan's Hot Dog Eating Contest. Apparently his jaw has let him down during training. Whatever, Joey Chestnut beat your record and you're not stomach enough to win it back. I'm not sure why, but I think July 4th will remain a holiday this year.
--Jessica Biel in GQ. Wa-Wa-Wee-Wa. These aren't those and you want to see those.
--Canada is always one step ahead of our fair country as evidenced by the release of its first ambulance for those patients weighing 1,000 pounds or more.
--How good did BJ Penn look on Saturday? Big shock…BJPenn.com crashed after he promoted it in his post-fight "interview." How crazy was that finish between Rob Emerson and Gray Maynard? Too bad Manny's shoulder popped out because that guy is a freakin' beast and I think would've taken care of Nate Diaz.
--What does no Astros Sunday afternoon game mean? Not one, but two soccer games!! The U.S. – Mexico game was great in the second half particularly when each team blew phenomenal opportunities in the final minutes. Of course, the U.S. and Dynamo both won.
--Nothing quite matches the intensity of a Saturday night game of Yahtzee. A huge battle took place in Ybor City, Florida over the weekend between Mark Allen, 49, and the girlfriend of Reuben Barnett. The excitement was apparently too much for Reuben to take so he went to his bedroom early and his girlfriend played on until she and Mark got into an argument. She went to Reuben's bedroom and shut the door. Mark calmly went to the door and kicked that mf'er off its hinges. Then he and Reuben threw down with Mark stabbing Reuben twice in the gut. Game over and sadly Reuben's life also over. F'n Yahtzee!!! How many more people have to die before they stop making this game!!!
--Next January a new
Transformers
animated series hits Cartoon Network. It doesn't get better than
Beast Wars
.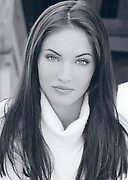 Megan Fox has a tattoo on the inside of her forearm of Marilyn Monroe's face. Now you know.
--Breathe easy America, Rosie has taken herself out of the running for
The Price is Right
.
--Your teacher/student sex story of the day comes to us from Florida. There Ralph Shollenberger is alleged to have had relations twice with the same 15-year-old girl. When Ralph was questioned he said he didn't remember the girl and that he believed he was meeting with the older sister of the girl he doesn't remember. Of course, the girl he doesn't remember has no sister. You don't think he's lyin…nah.
Questions, comments or if you ever played Sea Monkey-cide as a kid…