Yeah, That's About Right
The dumbass Texans got started on their dumbass decisions a month earlier than they did last year. Like most of you I didn't like the direction that "NFL team" decided to go last April with the top overall pick. I mean that was DUMB. This trade for an unproven QB is simply dumb. Matt Schaub has done what exactly to be worthy of two 2nd round picks and moving down two spots in the 1st round?!?! Thirty-eight games and a 52% completion percentage, six TDs and six INTs?! Huh?! And doesn't Schaub wear # 8?! Do Houstonians really want to see another # 8? Gary Kubiak is a nice guy, I guess, he's from here, but WTF?! Damn you John Elway for winning those Super Bowls and making anyone coming from the Denver organization an automatic genius!! I hate the Texans, but in a very, very, deep spot in my heart I really want to like this team, but they make it impossible.
Okay, if he's a ninja he can stay.
Damn You Chalk!!!

My first Final Four team is out after the Aggies got screwed by the refs allowing the Tigers to come away with a win. What a great set of games, though, on Thursday. Ohio State continues to play with matches without getting burned. Southern Illiniois has one hellaceous defense, but Kansas had just enough. It meets UCLA to cement at least two games featuring a 1 vs. a 2. It sucks that the chalk keeps coming up with wins, but at least the games themselves have picked up big time since those disappointing first two rounds.
--CBS really thinks James Brown is more adept at play-by-play than Gus Johnson?! And no offense to fellow Cougar Jim Nantz, but give me Verne Lundquist and Bill Raftery over Nantz and Billy Packer every day of the week.
--I think I speak for everyone when I say We Heart You Erin Andrews…
--Tell me a couple in Alabama did not give their second child the first name Saban.
--Let's see high school phenom O.J. Mayo has been busted for pot, kicked out of a game for pushing a ref, got t'd up in the state championship because he threw the ball off the backboard for a dunk on a fast break when his team was up by 40 in the final minute, told USC coach Tim Floyd that he'll take care of recruiting, won't give said coach his cell phone number, and picked USC because he wants to be close to L.A. to work on his marketing. This is going to end well.
Quick Hitters and Random Thoughts
--Worst news of the week…Ricky Gervais and Stephen Merchant say Extras is done. On the plus side the boys will come up with a standalone special at some point. Oh the memories…"Little Fat Man"
--Mine eyes have finally seen
300
in all of its IMAX glory. Of course, it was f'n awesome!! The Queen with the line of the movie, "This will not be over quickly. You will not enjoy this. I am not your Queen." Not that it's easy to tell, but the guy playing Xerxes, Rodrigo Santoro, is the guy on
Lost
who started popping up last season with that blonde chick.
--Emile Hirsch from
Lords of Dogtown
and
Girl Next Door
is going to be Speed Racer?!
--Very smart move by former Ambassador to the UN John Bolton going on
The Daily Show
. Wow, he could not look more inept. Jon Stewart owned him in front of everyone and not just because he had the audience's backing, but because he showed signs of intelligence.
--"Check it out. I'm buffering." Thanks Daily Show for finally getting Demetri Martin back on. Now if Jon and Demetri can get together more than once a month I'd be a happy man.
--Best scene on the tele this week was courtesy of
Friday Night Lights
when QB1, Riggins, and Smash rolled Street out on the field and Street coached up Saracen. Great stuff.
Turk's life is a good life.
--Some people don't know when to shut the f up and just be happy you didn't get busted. Michael Vick is one of those people. Dumbass was talking about his water bottle hidden compartment smells like marijuana incident, "I had earrings in it, and I had jewelry in it. They took the bottle. I don't know what they did with the bottle. I guess they were trying to, I don't want to say frame me, but at the same time look at what I had to go through." Poor, poor Michael.
--Tell me Carlos Mencia didn't steal from Bill Cosby?!
--The Wynn in Vegas has some odds out on
Dancing with the Drexler
and I'm not sure if they actually watched the first episode. It has Billy Ray Cyrus at 8-1making him the 4th favorite, which is just ridiculous. Steve Sanders definitely has a better chance than that guy. Clyde is at 12-1. The longest shot is Cliff Claven at 25-1. The favorite? Laila Ali at 4-1. Joey Fatone is 5-1.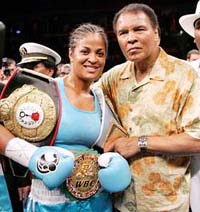 --Jet Li as
The Mummy
in part three?!
--Last November Jaguars OT Khalif Barnes was arrested for drunk driving and apparently he wasn't aware that he was being videotaped or maybe he was aware and just doesn't give a f. The video surfaced online and here's some of what Khalif had to say, "This is unbelievable, man, unbelievable being a pro athlete in Jacksonville. I can't wait to get out of here. Can't wait. Especially if you're black. Of all the places in the -- world that I came to this -- hick town. They -- hate us here? Why you even want to have a pro team here? What's the use? They don't even -- respect you."
--Vivica A. Fox and Tony LaRussa have something in common. They were both busted for drunk driving this past week. Congratulations. At least LaRussa fell asleep making sure the streets stayed somewhat safe as long as you just went around his car at that light.
--Say what you want about the environment and global warming, but all I need is a vote by 6th graders in Longmont, Colorado. The 6th graders at Trail Ridge Middle School had a mock trial and came to the conclusion that global warming is not caused by humans, so that settles that.
--Gotta love a Drudge Report headline that has a picture of Barack Obama with a caption "…now he's Irish too."
--I'm thinking this probably isn't legal, but St. Hugo of the Hills Catholic School has banned any of its students from having a MySpace page. If they don't delete their existing page then they can't go back to school.
--Your sicko of the week comes to us from Minnesota. Last month 17-year-old Crystal Brown had been worried a while about her Australian shepherd dog, which had been missing a couple of weeks. Then one day she comes home to find a gift box on her front porch. Inside was a bunch of Valentine's candy (awwwww) and a garbage bag (huh, filled with candy?) containing her dog's head (oh). Some 24-year-old piece of crap man has been arrested, but unfortunately not yet decapitated.
Questions, comments, or if you ever took one down and passed it around…