40-7 And It Wasn't That Close
No point in reheating that pile of crap that the Texans attempted to pass as professional football. I believe it was Homer who said it best, "That team sure did suck last night. They just plain sucked! I've seen teams suck before, but they were the suckiest bunch of sucks that ever sucked!"
--Brett Favre moved past Dan Marino on the all-time completions list. Favre also went past some guy named John Hadl for 2nd place on the all-time interceptions list throwing 268, 269 and 270 in the win. George Blanda is # 1 with 277.
--Rex Grossman threw for over 300 yards in that overtime win giving Chicago its first 300-yard passer in 73 games. That was the longest streak running and that now falls to the Niners who haven't had one in 41 straight games.
--Chris Weinke has now lost 17 straight as a starter marking the longest streak since Dan Pastorini lost 21 in a row in '72-'74.
--Reggie Bush didn't put on a show, but he did set a new rookie record for receptions by a RB. He just might pan out.
--Can't bring up Reggie without bringing up Vince. He didn't do much of anything, but his defense scored three TDs of 60 yards or longer. Tennessee had possession for just 15 minutes and 38 seconds. That's the lowest time of possession for a winning team in the 30 years that stat has been kept.
The Man, The Myth, The Yao

Sometimes Houston franchises get the number 1 overall selection right. Oh, it's true, it's true. How unbelievable is Yao right now? How unbelievable that he continues to get better and better each time out? He's easily the best center in the league having achieved that by the end of last season. This season he's in the discussion for Most Valuable Player. In the three games on this trip thus far he's averaging 43 minutes, 35 points, shooting 49%, grabbing 14.3 rebounds, 4 assists, 3.6 blocks, and has made 21 of 23 free throws. Not too shabby. Unfortunately the team is just 1-2 with games against the Blazers and Spurs still to come. For the first time this season the Rockets have put up 100+ in three straight games. Hopefully Tracy McGrady comes back soon. Hopefully Bonzi continues to improve. No need to hope Yao keeps it up, because that's a given and he's only going to get better and maybe, just maybe someday will get a call. If only someone would come up with a catchy song for Yao.
--Are we sure Melo Yellow was in a gang video once upon a time?! Because I'm no expert, but in gang fights does one person sucker punch another and then backpedal until his boys get in front of him? Denver's starters should not have been in that game, but the stupidest thing to come out came from Isiah Thomas (shocking, I know). Zeke said that his team "had surrendered" and that's why Carmelo and Camby shouldn't have been in the game. Nice way for a coach to talk. They shouldn't have been in the game because they were up 19 with just over a minute left; not because you and your team "surrendered." Thomas basically warned Carmelo a hard foul was coming and yet Zeke gets off without a suspension? Earlier this season Thomas said he would have beaten the sh** out of Bruce Bowen if he stepped underneath him after a jumper like Bruce did to Steve Francis. Nothing new to say Isiah is an idiot and that idiot deserved a suspension.
It doesn't get any better than this.
--Glitch in the matrix…the Pistons are 13-1 on the first or second games of back-to-backs. 1-7 with one day of rest or more before a game.
--Fox Sports Bay Area has an interesting idea. It hired some statistician to examine every NBA game from the last several years to determine the probability of victory considering the score and time left in the game. The East Valley Tribune explains, "This way, TV types can put a team's probability of victory next to the score (much like they do in poker telecasts, in which the player's chances of winning the hand is posted on the screen next to his hole cards). So if the Warriors are down by 10 with a minute left to the Rockets, it will say 90 percent next to the Rockets' score and 10 percent next to the Warriors'."
Quick Hitters and Random Thoughts
--Miss USA Tara Conner is on the chopping block Tuesday because according to some reports she enjoys a little snow out at nightclubs and she makes out in public with Miss Teen USA. Conner is 20 while Miss Teen USA Katie Blair is all of 18 and national spokeswoman for Mothers Against Drunk Driving. This story can only get better.
Let the corruption of Miss Universe begin...
--Because once a year
SNL
is funny and time was running out on this year until (if you're at work then the volume a little lower might be a good idea)…
"Step one, cut a hole in the box."
--Finally
Little Miss Sunshine
is out on DVD although I'm sure most of your earmarked DVD money this week is going to
National Lampoon's Pledge This
,
American Pie Presents: The Naked Mile
, and
Step Up
. What a crap week except for that ray of Sunshine.
--Who doesn't love a gift card? Even stores must love them. Best Buy reported a $43 million dollar profit on unused cards last year.
--Because you don't have time to break down all of the pros and cons of Wii vs. PS 3…
--Child porn sickos probably have some of the stupidest/funniest stories to justify their sickness. Kevin Sutherland of Salt Lake came up with this one. He was downloading porn at the hospital he worked at. Rather it wasn't him downloading it was one of his "personalities." This personality happened to be a teenage boy and liked looking at girls his own age. Yeah, that's not working out for him so far.
--Because it doesn't get better than a new video from U2 that shows nothing but clips of renowned music artists…
--Chris Evert and Greg Norman?!
--The first real
Transformers
trailer comes out Wednesday. Cooler "bad guy"?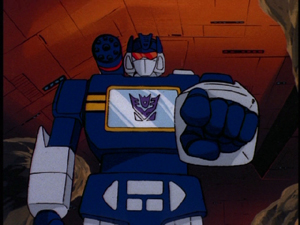 Soundwave
or
Storm Shadow?
--Drudge Report shocking headline of the week…Being a celebrity 'best thing in the world' say children.
--I couldn't find a job teaching U.S. History, but David Paszkiewicz did at Kearny High in New Jersey. Unfortunately for him one junior recorded his classes and the NY Times reported, "Shortly after school began in September, the teacher told his sixth-period students at Kearny High School that evolution and the Big Bang were not scientific, that dinosaurs were aboard Noah's ark, and that only Christians had a place in heaven." Mr. P received "corrective action" from administrators. Dinosaurs aboard Noah's ark sounds like a good start to a movie.
--Watch out Jermain Taylor…Edison Miranda is a bad man. So is Jose Hernandez. Major props to Jose for getting his face smashed for 7 rounds before knocking Jason Litzau the F out.
--
Probably need this T-shirt…

Questions, comments or if you think Time Magazine has lost all credibility by naming "You" as its Person of the Year…