Figures

Oh yeah, if there was ever going to be a day that the Texans were going to beat the Colts Sunday figured to be it. What with David Carr coming into that game red hot, Houston coming in after falling just short against the Patriots on the road, the Colts coming off an insignificant win against the Bengals with Peyton Manning's season-long struggles continuing. Yeah, Texans 27 Colts 24 sounded about right. Now it would be a huge upset if Houston doesn't end this season on a two-game win streak to go 6-10. 6-10 has never looked so ugly, but 6-10 and drafting 7th or 8th is better than 2-14, drafting first and ending up the laughingstock of the football world.
--I'd like to personally offer my thanks to the Panthers for destroying any and all of us who have Steve Smith. Last week the Panthers ran 61 offensive plays, 52 of which were runs, hell 7 were direct snaps. Awesome, thank you.
--Seriously over the last three weeks Maurice Jones-Drew has more yards and the same amount of TDs as LaDainian Tomlinson. The other RB with 5 TDs over the last three weeks is Ron Dayne.
--Who will you miss less once the football season is over…Bryant Gumbel or Joe Theismann?
--'Tis the season for lots o' year end awards and stuff like that. The AP named Tiger its male athlete of the year. Okay, I can see that. What I can't see is how Vince Young finishes in 7th. Not only 7th, but tied for 7th with Shaun White and Floyd Landis. Did I miss the part where having a lot of red hair or riding a bicycle on steroids is more impressive than quarterbacking your team to a national championship and then going to the pros and ripping off six straight wins to get your previously crappy team into playoff contention? Female winner was Lorena Ochoa who apparently is a golfer. She beat out Maria Sharapova who put out the best calendar for the upcoming year.
--Right thing to say…LaMont Jordan almost speaking the truth, "You know what? I'm not going to say anything about it. Still got a game left. I'm not out there playing, so there's no need of me saying anything. Only thing I can say is, when people sit there and they criticize us, I understand that we play terrible on offense, but nobody really knows as players what we go through when we come in this building. And I'll just leave it at that."
Wrong thing to say…Tiki on his final game before hanging it up, "I am sitting in a meeting and instead of being solely focused on the Washington Redskins, I will be thinking about other things."
Another wrong this to say…Michael Vick sums up his season, "I rushed for 1,000 yards and threw a career-high 19 touchdowns with one game to go. I accomplished a lot of things. I think I played consistently week in and week out, and I really can't say what more I could have done."
--Chester Taylor is the first 1,000 yard back for the Vikings since? Since 2002 when Michael "fantasy tease" Bennett did it.
--Pro Football Talk is saying that Charley Casserly is the front-runner for the Giants GM job. Wow. Simply wow.
Thanks for the memories, idiot.
--Maybe you heard Jason Taylor blasting Shawne Merriman's candidacy for the Pro Bowl and other awards since Merriman was suspended violating the steroid policy earlier this year. Merriman in the giving mood, "I sent him a 'Lights Out' hat and a 'Lights Out' T-shirt and a bag of popcorn," he said, "so he can watch us in the playoffs."
--How does Chris Simms turn a ruptured spleen into a two-year contract?
Figures
Yao was starting to get some national MVP run and of course, as soon as the hype was about to hit the fan he hit the floor and the rest is a fractured anteria tibia. Awful, just awful. Tracy McGrady is back although he still hasn't found his shot. Right now he's shooting exactly the same percentage he shot last year (42%) and that's not good. He's also below 30% from beyond the arc and below 70% from the free throw line. And yet the guys are putting forth great effort and getting big time contributions from different guys every night whether it's Bonzi, Rafer, Luther or Shane someone continues to step up and you have to give JVG a lot of credit for his insistence that this team is good enough without Yao to not only compete, but win. The Rockets may end up the most dangerous 8th seed ever.
--Luther Head broke Kenny Smith's franchise record of 27 straight games with a 3-pointer.
--I'm not saying Steve Francis has fallen off the face of the NBA planet, but in that three overtime game against the Pistons the Franchise got all of 14 minutes.
Quick Hitters and Random Thoughts
--I've never met a Rocky, including V, that I didn't like and Rocky Balboa was certainly no exception. Great stuff from Rocko and Spider and Paulie and little Marie. Thankfully it was good enough to overshadow the 20 seconds Skip Bayless and 1st and 10 made an appearance on the show. Skip's appearance nearly ruined the entire movie. Best Elton John song ever...
--I finally got around to watching
Little Miss Sunshine
and it did not disappoint one single bit. That final scene destroyed me. Alan Arkin was phenomenal. Because you need to know…The little girl, Abigail Breslin, wore a fat suit for the movie.
--NaS' new one is out and it is fan-freakin-tastic. It doesn't get much better than "Where Are They Now?" and "Hip Hop is Dead."
--I have had the great fortune of having a PS 3 come into my hands. As you might guess, it's just ridiculous. Madden has never looked better or played better. Usually it's boring to watch a game between two people, but not with these graphics. Next up Call of Duty 3 and then I gots to get my FIFA on. I also had a one-night stand with a Wii. That's pretty strong as well, though I can see myself getting tired of that after a while. Or maybe that's just because I got "mercy ruled" in my last baseball game.
--
Family Guy
has been going downhill for a while, but this is my # 1
Family Guy
moment of all-time…
--Is there a petition we can sign online to ensure that Jessica Biel spends every Christmas in Hawaii? On another note please no more pictures of Tara Reid.
--
Dancing with the Stars
is still looking for an athlete for its upcoming edition. Reggie Miller turned down an invitation due to scheduling conflicts.
--Three words: Egg Nog Chug...
--A Kim Kardashian sex tape is on the way?!
--Variety released its top 10 box office bombs taking into account cost and its revenues. You might be surprised, but
Basic Instinct 2
made the list seeing as how it cost $70 million and earned $5 million domestically. Sharon Stone about as cold at the box office as M. Knight Houshmandzadeh whose
Lady in the Water
made it as well. One film I can't wait to see (on DVD) is
The Fountain
which landed on the list.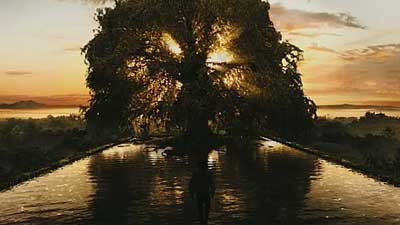 --Mike Tyson got busted for cocaine possession. If there's one guy that should never, ever have coke in front of him it's Tyson.
--Chuck Lidell and Tito Ortiz tangle on Saturday night. I'll take Tito by knockout in the 2nd.
--
A Nashville New Year with Sean Hannity
?!
--Is Guitar Hero really the video crack it's supposed to be?
--Christina Aguilera with the duh of the week from the always reliable Sun, "We should all be allowed to enjoy whatever we enjoy. Women are beautiful beings and I often find the sight of a naked female more arousing than a naked man."
--There's going to be a
Real Genius 2
with Val Kilmer?!
--Now we head to Indianapolis where Brandi Crew's two youngens have a knack for being early to try and sneak as many Christmases as possible in. Last year Bethany came in early and just in time for a visit with Santa. This year Zachary showed up 7 weeks early because Bethany probably informed about this whole Christmas thing. Will Brandi go for three in a row? "I got my girl and I got my boy. I'm done," she said.
--There are idiot carjackers and then there is Claude King of Florida. Dude carjacked an SUV and took off for Palm Springs. After two crashes and getting lost he decided that was enough fun and dialed 9-1-1. He told the dispatchder, "Um, I committed a crime. I stole a vehicle." When asked his name King said, "I'd rather do this: Could you just send the police over here?" Then the dispatcher asked where the car was and King responded, "I couldn't even tell you. I don't even know where I'm at." If you carjack then have a plan…and maybe a key map.
--This little war is taking so long that PBS had time to develop a Muppet special
When Parents Are Deployed
. Sadly I think they have a lot of time to develop When Parents Return.
Questions, comments or if you've ever had so many Jager shots on Christmas that you ended up at a karaoke country bar, yelling about Joseph Addai's heart, referred to the girls you were with by different names each time you addressed them and for good measure got a berth into your fantasy championship...