Bo-ring

The Texans lost, again. David Carr's numbers were good so that's nice. We all know the team screwed up by picking up that option. I too thought he would never be great, but I thought he'd be good enough. He won't be, at least not here. It's been nearly five years and the same mistakes are there and they ain't going away. It's more than just him though. There's just not a lot of talent out there and honestly after five years without at least a .500 the Texans should petition the league for another expansion draft. For $700 million Bob McNair should get at least one more expansion draft for every five year period that the team doesn't reach 8 wins. I wanted Vince or Reggie in large part because at least a couple of times a game they're guaranteed to do something exciting. It's all about entertainment and the Texans are one of the least entertaining teams in the league. So are the Raiders so Sunday's game should be a good time to catch up on sleep.
I used to be somebody.
--Why are Kris Brown and Chad Stanley still on this team?
--That Vince Young guy might just work out.
--I'd like to call for a moratorium on Tony Romo and any mentions of Roma's ribs. Thank you for your cooperation. A moratorium on K-K-Kramer jokes is forthcoming.
--Drew Brees has five straight 300-yard games. The record is six held by Steve Young, Rich Gannon and Kurt Warner.
--One word: Brady.
--Hey Jim Haslett sensitive much about your Rams rushing defense, which ranks dead last? The defensive coordinator said, "I'm sick of talking about the (freaking) yardage. I look at the Colts who are right beside us (in run defense), and they're 10-1. I pick up the paper every week and read about the yardage we've given up. It is what it is. All right? We haven't done well. We actually fit well, the best we've ever played, and they still had 170 rushing on us. We're ninth (actually 10th) in the league in pass defense, we've given up four (actually five) touchdowns in the last three games. You don't write that stuff."
--The Giants are free falling and Plaxico Burress is just one of the reasons why (Vince Young another). Maybe you saw the beginning of blowing that 21-0 lead when Eli was picked off by Pacman Jones on a play Plaxico absolutely quit on. I'm sure Plax won't make excuses though, "He's one of the most dangerous guys in the league when he has the ball in his hands. You can't expect me to blow the guy up. I didn't make the tackle. Get over it."
--If Michael Vick would've flipped that finger at Roddy White would he have dropped it?
--You'd think with the Chargers putting up points left and right it'd be good to have Nate Kaeding on your fantasy team. San Diago has now scored 19 touchdowns since kicking their last field goal.
--You can't prop Todd Graham and the Rice Owls enough for ending their 45-year bowl drought. He won't get a lot of run for it, but he's got to be on the short list for Coach of the Year. This was a one-win team a year ago and he has them closing out with six straight w's?! Just incredible. Now go take care of business in your bowl.
--Good luck to the Coogs Friday night in the C-USA Championship Game, not that they'll need
it. Paw Power!!
It Takes Five
The schedule has been kind, but regardless the boys are Rock-et and rolling. Saturday night Tracy McGrady looked like, well Tracy McGrady. We haven't seen him attack the basket like that this season. We've seen him pass the ball and pile up the assist numbers, but not like that either. Of course, it helps when the guys are making. What's so encouraging is that the team is 9-4 and we know it can be so much better.
--Big shock Dwyane Wade leads the league in free throw attempts per game at 11.5.
Quick Hitters and Random Thoughts

--
The Simpsons
can still be very, very funny...
--Hopefully you've been paying attention because this very early portion of the college basketball slate has been fan-freakin-tastic! All the tournaments have been great and we'll be extremely lucky to have one game from Final Four weekend as good as last weekend's Florida/Kansas game was. Only about seven future lottery picks in that game won by Kansas in dramatic fashion in overtime. How Kansas couldn't beat Oral Roberts is beyond me. I mean when you can't get Oral at home you've got problems.
--Apparently Kid Rock and Pam Anderson are divorcing…again. Where's my wedding sack?
--Four words you've longed to hear strung together…Jessica Simpson sex tape. The one word preceding those magic four? Possible. Damn.
what? you would have your hands someplace else?
--Hands down the best new character on television this season. Hiro from, well,
Heroes
.
--A Smurfs movie?! It's about time.
--Jay-Z's new one has bumped The Killers' new one as # 1 on my iPod. The Killers will offer a holiday song on iTunes December 6th. "A Great Big Sleigh" the title. More importantly Billy Idol has a holiday album due to come out next week called "Happy Holidays." Who doesn't want to hear Billy Idol sing "Frosty the Snowman" and "Silent Night" among other classics.
--Thirty-two wonderful years ago this week Carl Douglas came out with the classic "Kung Fu Fighting."
--TV Land has come up with a list of the top 100 catchphrases of all-time from the world of television. It'll air a countdown special beginning December 11th. Ummm….why is JFK's "ask not what your country can do for you…" on a list with things like "Dyn-o-mite" and "De plane!" "De Plane!"? Some other notables, David Banner's "Don't make me angry…", "Homey, don't play that", Sanford's "Elizabeth, I'm coming", "I'm Rick James bitch", and for some stupid reason Paris' "You're hot."
--Some female psychiatrist is coming out with a book that claims, and here's where it gets unbelievable, but the book claims women talk nearly three times as much as men. Obviously you'll find this under fiction because that just doesn't sound right.
--If you could only have one I'm thinking you'd take Jessica Biel over some MVP award. Derek Jeter is living the life.
and one more for good measure...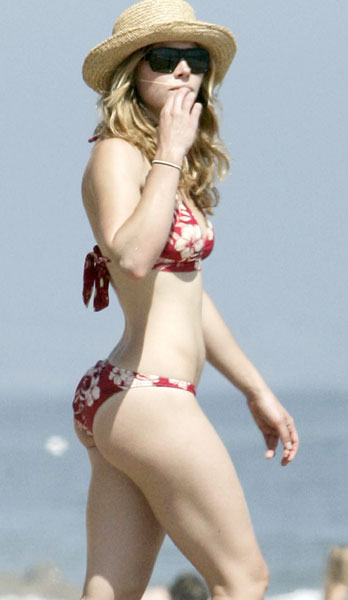 --The best way to cap off a long day of football and basketball on Saturday was with HBO Boxing After Dark. It replayed the furious three rounds between Manny Pacquiao and Erik Morales (El Terrible still lost) then gave us Juan Manuel Marquez and Jimrex Jaca fighting in Hidalgo, Texas (wherever that is). What a pleasant surprise of a fight. JMM had a crimson mask due to a couple of headbutts, but won by knockout in the 9th to make his case to be the next to face Manny Pacquiao. I'd much rather see that rematch than Pac-Man beat on Barrera again. --The Contender's Peter Manfredo is set to take on Joe Calzaghe in March. Good luck with that.
--Britain's Q Magazine is celebrating its 20th anniversary by selecting the best of the best singles from the last 20 years. Let's take a look at the 20…At 19 is Eminem's "Stan." At 15 we find "Personal Jesus" – excellent selection. Gnarls' "Crazy" is 12 (great album by the way). Jack and Meg at 10 with "Seven Nation Army."
The Verve at 7 with the fantastic "Bittersweet Symphony." U2's "One" at 5. # 3 goes to "Sweet Child O' Mine." # 2 is "Hey Ya" and just typing that will keep it playing in my head for the next 36 hours. The top single in the past 20 years according to Q Magazine is…(wait for it)…Nirvana's "Smells Like Teen Spirit."
--Britney these are Panties. Panties this is Britney. I'll let you two get to know each other. I guess that's what happens when you start hanging out with Lindsey Lohan.
--The Sports Reporters can be good, very good when Jeremy Schaap has parting shots like this, "When the Bears play the Patriots today, they'll be without cornerback Ricky Manning, who leads the team in interceptions and convictions. This week the NFL suspended Manning for one game for his most recent crime.
In April, Manning and some friends were at a Denny's when they noticed another patron quietly working on his laptop. For no known reason, Manning — already on probation for another assault — slapped the man in the face and allegedly called him an ugly Jew — and worse. Then Manning's friends beat the man — who by the way is not Jewish — into unconsciousness. Manning denied the slur — my lawyers are Jewish, he said — but in September he pleaded no contest to felony assault.
Regarding the suspension and its timing, Brian Urlacher said, quote, "It stinks." Urlacher's an outstanding linebacker, but perspective is clearly not his strength. Neither he nor anyone else on the Bears said it stunk that Manning assaulted an innocent man — only that it stinks that he won't be in the team's nickel package today.
For its part, the NFL was too soft on Manning, a repeat offender, an alleged bigot and a confirmed dope. In just about any other line of work, Manning would have been fired for cause. Instead, he'll be back on the field next week.
Go Bears."
--It's not as good as the first one, but here's the next installment of
Street Fighter: The Later Years.
Questions, comments or if you've ever stumbled home at 2 AM and tossed some apples in a pan then melted six Snickers bite size candies then added some sugar because you got sweets like that and then poured it over leftover banana pudding…