SUNDAY SWEEP!!!

Texans b-slap the Jaguars – check
Dynamo end the Revolution – check
Rockets beat the Heat – check
Mario Batali and Rachael Ray destroy Bobby Flay and Giada de Laurentis – check
Who's next?
Owned

Like I wrote last week until further notice the Texans and David Carr own the Jaguars and after 60 minutes of football nothing has changed. Gotta love Petey Faggins on Inside the Game saying, "I'd have to say we do own them right now." Truer words were never spoken. You can't even use the game as a barometer of how the team is progressing because it's such a freakin' big difference when they line up against Jacksonville. Everyone is more intense, energetic, and confident and it all starts with Carr. That run he had in the third quarter where he lowered his shoulder to get the first down was awesome. Gary Kubiak's call to go for it on 4th and inches late, up by only a field goal was one of the few times he's been aggressive this season and hopefully it wasn't the last. Welcome to the NFL Jason Babin. Even C.C. Brown made a play or two. The team doesn't bring it like that every week, but when they do it sure makes it easy to call yourself a Texans fan.
--How exactly was that not a catch by Owen Daniels?!
--Congratulations to the Raiders who scored their 7th touchdown of the season on Sunday. That ended a streak of 34 straight possessions without an offensive TD. Since their Super Bowl loss a few years ago Oakland is 15-43. Houston is 17-41. Even Arizona has 16 wins since that time.
--How sweet was Vince Young's pitch to Bo Scaife?
--After losses to the Lions and Browns, those two weeks when Michael Vick threw for 7 touchdowns seem like a long, long time ago.
--Remember when Adam Archuleta was good? He's now relegated to special teams duty with the 'Skins.
--Let's see…the first time Brandon Jacobs tucks the ball underneath his jersey and rubs it to honor his pregnant wife he doesn't get a penalty. That was two weeks ago. Sunday night it was a penalty. Thankfully the NFL is always consistent.
--Cy-Fair's Sam McGuffie ended the regular season with a ho-hum 2,303 rushing yards and 31 touchdowns. This run being the highlight of the season…
--Is this the week of Michigan/Ohio State?
True Year of the Yao
The man, the myth, the Yao continues to dominate on a nightly basis, at least on nights he doesn't pick up three fouls by the time the anthem is done. Yao single-handedly destroyed the Knicks and then kept it going against the Heat. I hate the Mavericks for obvious reasons, but no team gets on my nerves more than the Heat. They just seem so damn smug and I can't stand Gary Payton or Antoine Walker or Pat Riley or Jason Kapono or Rony Seikaly, well maybe I've gone back too far, but you get the idea. Hard to hate on Dwyane, but easy to hate on everyone else. Major props to Shaq for that dunk he had when no one was around to make the game 8-6. You definitely have to strut down the court after that. Pft, whatever. 94-72 eat it Miami! As for the rest of the NBA just wait 'til Tracy McGrady starts feeling it again (he is going to feel it again, isn't he?).
--Line of the week comes from Steve Kerr after Marv Albert said that Cleveland coach Mike Brown has 22 different colored frames to go with his wardrobe Steve busted out, "I think serial killers share those same tendencies."
--Cracked.com picks out a
YouTube for each NBA team
to break down where things stand for each franchise.
Quick Hitters and Random Thoughts

--I watched about five minutes of the regular season, but the first and final games of the Houston 1836's title run were phenomenal. Those guys had no business scoring after the Revolution went ahead in the second overtime. You knew how tired they were and yet Chinger came through once again. To have it all come down to penalty kicks and then the final kick was just too much. Great stuff and great fans. My one complaint…there's got to be a better time and date for your premiere game than on a NFL Sunday afternoon.
--This will be the only entry this week as I'll be in Vegas over the weekend for my monthly trip. This one to see the Manny Pacquiao/Erik Morales fight Saturday night, which will be on HBO PPV. I'd be shocked if Pac-Man doesn't walk away with a win.
--I finally saw Borat and, of course, was not disappointed although I probably should've mixed in a restroom break during the wrestling match. Hard to pick out a favorite scene, but gotta love, "King in the castle. King in the castle." Also, "Are these your spells gypsy?" And then, of course, the wedding sack for Pamela Anderson.
Salon.com has a great article on the scenes and the people in them.
--Can you ever get enough Stewart and Colbert?
I say no…
--Simpsons movie trailer time although trailers sometimes actually have more than one scene from the movie…
--Someone needs to inform Ali G that the
Back to the Future
hoverboard is now on e-Bay. Starting bid is close to $3,000.
--Breaker, breaker, breaker our next story comes to us from Apopka, Florida and more specifically the Wal-Mart parking lot there. It seems to men in their late 40's have had a feud for the last six years. A feud started and continued only on CB radio. Finally the other day Frank Lukasik announced that he was going to this Wal-Mart to buy a gift. Paul Goldman said he'd be there to settle the dispute and that he had something for Lukasik. So the two truckers pulled into the lot. Lukasik stepped out first and walked towards Goldman who unfortunately brought mace to a gun fight. Lukasik said he only fired after Goldman sprayed that deadly mace. Goldman was grazed and now both sit in jail wondering how 1970's technology could steer them so wrong.
--Fantasycongress.com?!
--The
South Park
meets
Buck Rogers
opening last week was fan-freakin-tastic!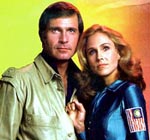 Erin Gray, I like.
--Nine of the twelve NL rookies who got ROY votes were from the Marlins and Dodgers.
This or That?
--I know you've been wondering what the record was for the fastest 160-character SMS message. An American did hold the mark until this weekend when a 16-year-old Singapore student texted, "The razor-toothed piranhas of the genera Serrasalmus and Pygocentrus are the most ferocious freshwater fish in the world. In reality they seldom attack a human." By the way, that's the official text the Guinness people use for the record. The Singapore kid typed it in 41.52 seconds. How a female doesn't hold this record is beyond me.
--Superior Court Judge Jeffrey Locke of Massachusetts has ruled that a burrito is not, I repeat, is not a sandwich. Apparently a Panera there in some shopping center was trying to prevent a Mexican grill from opening because Panera has an agreement with the shopping center people that it will be the only sandwich shop. Locke with more very insightful information, "A sandwich is not commonly understood to include burritos, tacos and quesadillas, which are typically made with a single tortilla and stuffed with a choice filling of meat, rice, and beans."
Questions, comments or if you've ever received faxes from the future…