Here We Go
As we approach week one 'tis time to put aside all of the bad and wrong the Texans have done in the past. Time to forget that the team had a lame duck general manager in charge of its draft and the bulk of its offseason. Time to forget David Carr is entering his 5th year and is only regressing. Time to forget that the number one overall pick was used on a guy who is going to play a lot of defensive tackle. Time to forget Vince and Reggie (like that's possible). Time to forget all those wonderful free agent signings bringing in the likes of Todd Wade and Morlon Greenwood. Time to forget Domanick Davis has a boo-boo that's going to keep him out all season. Time to forget that Andre Johnson has been wasted his first three years here. If you're having trouble forgetting then I suggest Jager or perhaps the smooth taste of Goldschlager or Rumpleminze. After that if you still remember that this team wasted a 2-14 season then I suggest you mix all three. Just remember to wake up by noon on Sunday because it's about to be on!
Any doubt Sage Rosenfels is a better hitter?
--Sportsbook.com has odds out on who will be this year's NFL MVP. You'll never guess the favorite. Oh wait, you did. Peyton Manning # 1 at 7-1 followed by 8-1s Larry Johnson and Shaun Alexander. Tom Brady 9-1. LaDainian and Carson Palmer at 10-1. A group at 15-1 includes Michael Vick, T.O., and Kurt Warner. Kurt Warner at 15-1?! I'm thinking that's not good value. Edge at 20-1, but it might as well be 2,000-1.
--Not that this helps your fantasy team, but Atlanta's Michael Koenen will punt, kick field goals/extra points and handle kickoffs. It's been about 25 years since only one person has handled all of those duties.
--For me Ohio State and Texas will have to wait until I'm done calling the Katy/Woodlands game. If you're going to have to wait until midnight to start watching college's 1 vs. 2 I can't think of a better reason than Katy/Woodlands.
--I don't understand why Tony Siragusa was hired by Fox and this probably wasn't his idea, but towards the end of a Dolphins/Panthers game Greg "Cat Man" Good (equivalent of Texans Freak) was told he was going to win a car. So Tony Siragusa waddled over to him and gave him a brand new toy car. Oh, the hilarity. I'll wait for you to call your friends with that side-splitting story. Now clean up your keyboards and we'll go on. So The Charlotte Observer ran a story on the hilarity and Fox Sports Chairman and CEO David Hill decided to make things right by giving Good a new Ford F-150. Try not to laugh, but Hill said, "I take the reputation of Fox Sports very seriously, and I don't want it to be sullied."
Almost as hilarious as promising people cars and giving them toys is promising people 100 Grand and giving them a candy bar. Damn, I'm glad we're not a station like that.
--Time for those all-important predictions…
AFC East- Dolphins NFC East- Eagles
AFC North- Bengals NFC North- Vikings
AFC South- Colts NFC South- Falcons
AFC West- Broncos NFC West- Seahawks
Wild Cards- Patriots, Steelers
Wild Cards- Bears, Panthers
Super Bowl- Colts vs. Falcons
winner, winner, chicken dinner- Colts
(If these aren't worthless by week six it'll be a miracle)
Are We There Yet?
Apparently the Astros are still playing. I was not aware.
--When I went to Round Rock last month I was curious to see the strikeout machine known as Charlton Jimerson. I mean 183 strikeouts in 123 games blows anything Preston Wilson did out of the freakin' water. The first six pitches he saw in this particular game were six strikes and I was duly impressed. On Monday he made his first Major League plate appearance and of course, he smacked an absolute bomb. Four hundred and forty feet later Jimerson became the third Astro to homer in his first plate appearance. The others to do it were Jose Sosa in '75 and Dave Matranga in 2003. On Saturday Indian Kevin Kouzmanoff smacked a grand slam on the very first pitch he saw in his very first at-bat.
----His ERA is about a run and a half higher, but Brad Lidge has only blown 5 saves while Jason Isringhausen is up to 10 now.
--The nearly 28 months (6,364 games) between Randy's perfect game and Anabal Sanchez's no-hitter is the longest gap between no-hitters in major league history. Despite only being around for just more than 10 years it was Florida's 4th no-no. The Mets still waiting on # 1. The last no-hitter before Randy's? I'm sure you said the Astros and you are correct. That one was courtesy of Roy Oswalt, Pete Munro, Kirk Saarloos, Brad Lidge, Billy Wagner and Octavio Dotel. Back to Sanchez, he had Tommy John surgery three years ago. So I'm penciling in 2008 for Brandon Backe's no-no.
--Johan Santana not only leads the AL, but MLB in wins (17), strikeouts (219) and ERA (2.84).
--Through 138 games in their respective big homer seasons…Babe Ruth- 50. Roger Maris- 53. Ryan Howard- 53.
I'm not positive, but I think that ball ends up 475 feet away from Ryan.
--Jason Giambi finally shaved that horrible thing he was calling a mustache.
--Cla "no 'y' needed" Meredith now has 27.1 straight scoreless innings. To go over it again the Red Sox sent both Josh Bard (.325) and Cla (4-1, 0.79 ERA) to San Diago for Doug Mirabelli (.182) who is the personal catcher of Tim Wakefield who is on the disabled list. It's been a good year in Boston.
Quick Hitters and Random Thoughts
--If you see one movie about football hooliganism starring Elijah Wood and Claire Forlani this year make it
Green St. Hooligans
. Very strong.
--Apparently Jessica Simpson and John Mayer are no more. Whoever told Jessica to cut her hair should also probably be out of a relationship with her. Orlando Bloom and Kate Bosworth also done. As well as David Spade and Heather Locklear. Spade and Teri Hatcher could be back on. (cough) passion wagon (cough). Penelope and Mr. Alright, Alright, Alright could also be back on.
--What kind of world do we live in when an entertainer whose life has touched us all can't drive a little fast to an In-N-Out Burger because she's hungry and had been working all day? The world has your back Paris. Fight the Power!!
--Oh, Oklahoma, thank you for making my column so easy to write. In Snyder, Oklahoma the mayor had to launch an investigation. Why? Well, apparently the wife of the chief of police is a plus-sized porn model on the Internet. I'll spare you any pics. Anyway, some Snyder-onians?, Snyder-ites? decided it would be funny to download some pics, make copies and pass them around. That is what got the investigation going. Let's hear from one of the good citizens of Snyder, "When our kids come home from school telling us that the chief's wife is a porno queen, how do you answer that?" How, indeed, how indeed.
--Thankfully the next Christopher Guest mockumentary comes us this fall. Among others
For Your Consideration
will have Fred Willard and drumroll…Ricky Gervais. Sold!
--Because it's going to be outstanding…one more time the trailer for
Darren Aronofosky's The Fountain.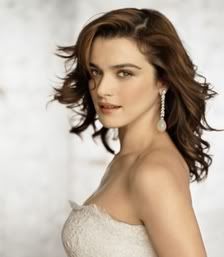 Darren's lovely wife who also stars in the movie.
--Ladies and gentlemen, there's another entry into the 0% RottenTomatoes Hall of Shame. Joining the likes of
Baby Geniuses 2
,
Zoom
, and
Ballistic: Ecks vs. Sever
is the
White Man Can't Jump/Above the Rim
combination
Crossover
. A sample of what the critics offer…
"Crossover is not just awful it's gloriously, stupendously, magnificently awful. And best of all it has Wayne Brady as the bad guy."
"Space Jam had better basketball scenes."
"There will never be a tamer, lamer movie made about streetball."
--Season 2 of
Lost
is now out on DVD. Season 3 begins October 4th.
Lucky Charlie.
--Just like I was late on catching on to
Weeds
, I was late in catching on to
Extras
. Ricky Gervais running down Ben Stiller by asking if he was Starsky or Hutch was classic.
--If during this offseason you need you some
Charles Barkley quotes here ya go.
Sir on one Stromile Swift, "He's one of those guys. We're gonna be saying for years it's time for him and the time is going to be over. It's frustrating for me, man, when I see a guy with that kind of ability. I think we can fairly say the jury is still out, but we've been saying that for (six) years. You know, one of my favorite lines on television and he's in that category, is, man, that boy can run and jump. So can a deer. But I'd never put a deer in a game."
--
Maybe one day I'll get tired of Stacy Keibler, but that day is not today.
Great idea WWE.
--Writing of WWE, I don't really keep up with it anymore, but apparently there's a
new tag team in town.
--For the last time, Sean from the South Belt, Ari's Lloyd and ESPN's Darren Lyn are two entirely different people. Some people really need their
Entourage
fix.
--R.I.P. Steve Irwin.
Questions, comments or if you are in three fantasy leagues and had the honor of picking 9th, 11th, and 12th…