It Was A Terrible, Horrible, No Good, Very Bad Trip

It's not just that it was a 4-6 roadie, but it was an ugly 4-6 roadie. And yet the Astros wake up Monday morning just five games behind the Reds who visit for three beginning Tuesday. Such is life in the very average National League. Nevertheless the Astros better not lose this series. They've already dropped five of the first six meetings against the Reds. We all know the offense is pathetic and this team will only go as far as its pitching. In the six previous meetings against Cincy Houston's pitchers have a 6.50 ERA. The only guy not to give up a run was Brad Lidge. Roger Clemens goes against 10-game winner Aaron Harang in the first game. Two of Harang's wins are against Houston, but he did allow 5 runs in 13.2 innings so all Houston has to do is get Roger two runs. Is that too much to ask for? Of course, it is, but let's be optimistic. Game 2 features Andy Pettitte against Bronson Arroyo. Andrew Eugene is 0-2 with a 10.64 ERA against Cincy so uhh, yeah, that's not promising. The third game has Taylor Buchholz opposite Elizardo Ramirez. Taylor has Houston's lone win and Elizardo has Cincy's lone loss so chalk that one up for the good/average guys.
--Homers in 19 straight games for the Cardinals, a new franchise mark. The streak stopped Monday when Colorado's Jeff Francis blanked them. It was Colorado's fourth shutout of the season tying its franchise record.
--The Dodgers are 1-10 with three shutout losses since the break.
--Jered Weaver went 6.2 allowing one run in a win against the Royals. His ERA skyrocketed from 1.12 to 1.15. Obviously the league is catching up to him.
--Don't look now, but the Braves went 7-2 on their road trip. Told ya not to look.
--The Twins are 32-8 in their last 40. They picked up not one, but two whole games on the Tigers in that stretch. In those 40 games Justin Morneau is hitting .400 with 43 RBIs while Joe Mauer is batting .392.
--Alfonso Soriano is "very close" to being traded to the White Sox. Or maybe not.
--Carlos Beltran's 80th RBI the other night set a record for Metropolitan center fielders.
--Because apparently Elias hates Alex Rodriguez it looked up and found out A-Rod is the first player in more than six years to have a three-error game and a four-strikeout game in a span of six days.
Thunder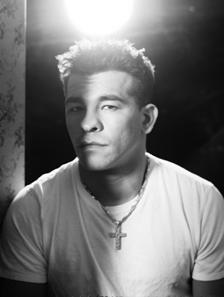 Thank you Arturo Gatti. The boxing world owes you a debt it can never repay. You have your money, your health, your first child and nothing left to prove to anyone. Thank you and God bless.
--A highlight package including just about
every incredible, amazing second of round 9
in Gatti/Ward I.
--I'm not sure anyone is ever going to take on Antonio Margarito. Floyd turned down $8 million and Carlos Baldomir wants either Ricky Hatton or Floyd. Oh well. Juan Diaz has mentioned the names Diego Corrales and Acelino Freitas. Diego is taking on Joel Casamayor for the third time come October. Jim Lampley said Diaz vs. Freitas is the best fight that can be made at 135. I hope we get it.
--I'm reading Beyond Glory, which takes a deep look at the Joe Louis and Max Schmeling fights. Of course, you can't do that without also including James Braddock and Max Baer among others. Over at boxrec.com (fantastic site) I was looking at some of those guys' records to see how long they lasted and what kind of work rate they had. After Baer lost to the Cinderella Man in 1935 he lost to Joe Louis three months later. Then Baer didn't fight again until June 1936. From June through October he fought a ridiculous 25 times. Granted the competition wasn't the best, but still, 25 fights in four months is 25 fights in four months. He traveled from Utah to Canada to Idaho to Wyoming to three fights in Texas in Tyler, Dallas and San Antonio. He won all of those fights against the likes of Millionaire Murphy, Cyclone Lynch, Cowboy Sammy Evans, and Bearcat Wright. Baer didn't get the best treatment from Ron Howard in The Cinderella Man. In 1930 Baer (as seen in the movie) knocked Frankie Campbell's brain loose from the connective tissue that holds it in place and that was it for him. To Baer's credit he did put Campbell's kids through college. It ain't much, but it's more than he had to do and more than you think he'd do after watching Th
e Cinderella Man
. If you want to see Baer knock the hell out of Primo Carnera,
here ya go…
Quick Hitters and Random Thoughts

--The best $35 you can spend this week is on the first season of
The Boondocks
. I'm not sure how much longer Aaron McGruder is on hiatus, but I hope it ends soon. I'm ready for more shows, much less more comic strips.
--Nice, never-a-doubt job by Tiger over the weekend despite backing off of every single shot at least once because of those idiot fans snapping pics on their cell phones.
--Oh Joy! Eight albums from American Idol contestants are slated for release between September and November this glorious year.
--The run of the final three episodes of Chappelle is over. This week was the worst except for Cribs and the Jurassic tone it took. That Monsters stuff was just awful. All in all, it was all right by me. We all knew it wasn't going to top or even come that close to Seasons 1 or 2. And why couldn't we get a Charlie Murphy story out of three episodes? That's about the only thing I'm upset with Dave about. You think it's a sign that they know it's not great and so release it on DVD this week, put a seemingly cheap price on it like $12 before people start telling other people "don't buy it, it's not worth it"?
----There are no accidents or maybe… "Yeah, you and Turtle crossed swords in your threesome. Accident?" I guess that's the last we see of Tori and that's a shame.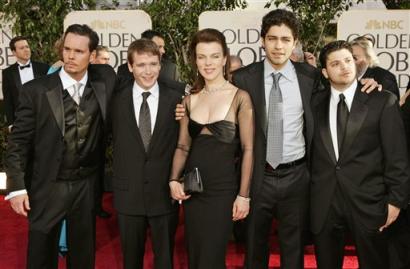 --I didn't watch a second of it and didn't really pay attention until Floyd Landis collapsed from 1st to 11th on Wednesday. Not even just 11th, but 8 minutes and 8 seconds behind the new leader. Then in the last mountain stage he gets within 30 seconds of the spot, which he and his arthritic hip overcome for the yellow jersey in the last time trial. His reward? Hip replacement surgery in the fall and probably an oh-so-coveted ESPY, which will be the next time you see or hear from him.
--David Hasselhoff: The Musical?!
--According to wikipedia the F-bomb was dropped the most in what movie? The top five include
Made
,
Narc
,
Goodfellas
,
Jarhead
, and
Casino
. # 1 is…also the longest of the five mentioned…Casino with 398 F-words or 2.24 per minute. I'm pretty sure
Deadwood
blows 2.24 per minute out of the f***in' H2 motha***** O.
Best character on television.
--If you're planning on a summer trip to New Braunfels be aware of the new maximum $500 fine for violating a noise ordinance or having a beer bong with you. Though the City Council didn't use the term beer bong it went with "volume drinking devices." Classic. It's also looking for a way to ban Jell-O shots.
--As I've written many times before
Requiem for a Dream
is the best movie I'll never watch again. Its director was Darren Aronofsky who also directed
Pi
. I am nowhere near intelligent enough to comprehend exactly what the hell was going on in that movie, but its premise was very intriguing. Next up this fall is
The Fountain
with Hugh Jackman and the lovely Rachel Weisz.
----And while we're looking at some trailers we may as well look at
Borat...
--Can't leave
Leonard Cohen
out of the mix. Outstanding lyricist and pipes which only the gods can bestow. Any movie involving a performance by U2 is worthy of my dollar.
--Wanna guess who's going to be president come next season of
24
? Why Wayne Palmer of course. I'm not sure if Kim Bauer/Elisha Cuthbert is coming back, but she sure is selfish, "I wouldn't cancel out a nude scene but, right now, with my life and my career, I don't feel the need to do that. I don't feel it's necessary. There have been points where we've had to use body doubles, and, obviously, as I get older, the roles get more mature. I never shy away from saying, 'OK guys, we can do this; let's just use a double.' I feel I give a lot to the public and there's a few things in my life right now that I'd like to keep to myself - my breasts being one of them."
--And your 2006 Miss Universe comes to us from the land of Roberto Clemente and Tito Trinidad.
Miss Puerto Rico Zuleyka Rivera Mendoza
. She's all of 18.
Your five finalists.
--Jake Gyllenhaal as Lance Armstrong in a biopic?!
--Democrat David Dickerson is running for the U.S. Senate in Maryland. Don't think he's going to get it. After all the guy sent away for a mail order bride from Latvia. And then the piece of crap allegedly raped and assaulted her.
--Ladies and gentlemen your halftime entertainment for Super Bowl XLI is none other than Prince.
--This is why you should watch more Discovery Channel…16-year-old Corey Workman was throwing rocks into a Central Florida lake when an 11-foot alligator decided to taste his foot. He likey so he started dragging Corey into the lake. Somehow this kid kept his cool and remembered the Discovery Channel show he watched two months earlier. It said that if an alligator has you that your best defense is to poke it in the eye since it's the most sensitive part of a gator. He poked it with his thumb and the gator let him go. I, for one, would be dead at the bottom of the lake.
--Surprisingly there were no cut-aways to this, but AJ Hawk and (Brady's sister) Laura Quinn were married Monday.
Questions, comments or if you remember that one day this summer that didn't include rain…