Left Below
What's left to say about these Astros? The hitting stinks, the pitching is inconsistent, you know the rest.
--Carlos Zambrano has more home runs (4) than losses (3). Adam Everett and Brad Ausmus have 3 home runs. By the end of the season will they catch up or heaven forbid pass Zambrano?
--The Astros aren't the only team this week that hit their low water mark of 6 games below .500. The Brewers are 4-11 in their last 15 and sit six below. The Dodgers are 1-13 and have been outscored 81-29.
--The Twins are just ridiculous. Make it 34-8 in their last 42. During this stretch the team is hitting .305. Their starters are 26-6 with a 3.13 ERA. The bullpen is 8-2 with a 2.74. Johan Santana is 7-1 with a 2.70 ERA and 69 K's. That's good. Francisco Liriano is better at 8-1 with a 1.58 ERA to go with 75 strikeouts.
--If you're interested in that sort of thing the auction house, Lelands, is offering the toilet whose home was the Red Sox dugout from 1986-2004. The reserve is $300, but I'm thinking it'll go for a crapload more.
--Writing of the Sox, David Ortiz's 34 HRs in the teams first 100 games is a new club record breaking Jimmie Foxx's mark of 33.
--In hitting streak news…Chipper's career-best 20-game streak ended Wednesday. Minnesota's Nick Punto's sits at 18. San Diego's Adrian Gonzalez's just ended at 17. He also had a 17-game streak earlier this season. Philly's Chase Utley's streak is at 27 and counting.
--Congratulations to Atlanta manager Bobby Cox who on Wednesday received his 124th ejection. That ties him with Leo Durocher for 2nd on the all-time list. John McGraw has the top spot with 131. If you're wondering and I know you are Earl Weaver was ejected 98 times.
--Before beating the hapless, Nomar-less Dodgers on Wednesday San Diego's Jake Peavy was 0-5 with a 6.61 ERA since his last win in late May.
--The White Sox have dropped 12 of 15. Ozzie Guillen, "For the first time in my life I'm speechless." Thank God.
--Because this might be the most important news of your week…the chorizo will join the bratwurst, hot dog and Polish and Italian sausages at the races in Milwaukee.
Quick Hitters and Random Thoughts
--Is it just me or does
Miami Vice
look bad? Not just ehhh, but bad.
--How can you not love Mexican soap operas? Brazilian ones sound promising as well as I'm sure the women are as hot if not hotter and you also have crazies apparently. The other day on the set of Brazilian soap "Snakes and Lizards" (something lost in translation?) they were doing a scene with gunshots were fired. At first they thought it was a part of the show then smartly figured otherwise. Some actor who was an extra let go a while back showed up at the Rio de Janeiro studios and just started firing while talking "nonsense." Eventually the Brazilian nut (get it?) was captured and no one was hurt.
--Stephanie McMahon and HHH spawned their first child on Monday. Vince announced it live on RAW, but thankfully didn't show it. I think we're all still trying to get over them showing Mae's birth of Mark Henry's baby. By the way, how am I supposed to be excited and take the new ECW seriously if freakin' Kane and Big Show are fighting for the title. C'mon ECW is easy, easy to make it like it was and yet the powers that be screw up at every turn.
--The U.S. Navy diver that Cuba Gooding Jr. portrayed in
Men of Honor
, Carl Brashear, passed away from respiratory and heart failure at the age of 75.
--The Killers are touring North America in November is support of their new album which drops on October 3rd.
--Headline of the week: 'More Americans too fat for X-Rays, scans'.
Your no sh** headline of the week: 'World Doesn't Respect Bush'.
--Despite the fact that it is going to lose well over $100 million this fiscal year ESPN continues to push Mobile on us. Whatever, but I will write this, that Reggie Bush fantasy football draft spot is hilarious. If you haven't seen it Reggie is hanging with some fellas getting ready to start the draft. The guy sitting next to him takes "my boy Reggie Bush." Reggie says he'll take Larry Johnson and that guy is stupid. May all my drafts contain those stupid guys.
--As I've mentioned before this season of Deadwood has been out-freakin'-standing!
The fight of the year
between Dan Dority and Captain Turner is among the highlights. Lately there's a storyline concerning a guy portrayed by Omar Gooding who supposedly came over from Liberia. Back to current days for the first time in 15 years Liberia has running water and electricity. This coming on the 159th anniversary of the country's founding by freed American slaves.
--Vin Diesel and Maria Menounos?!
--Some of the
very rough
Simpsons
movie clips
are out.
--Over the last three days in Nigeria a Korean man has excreted not 1, not 2, not 20, not 30, not 40, but 48 wraps of cocaine weighing a total of 3.5 pounds. Let's hear from the spokesman for the National Drug Enforcement Agency, "He is still excreting. It is a scary quantity to swallow." Shouldn't he have learned in Spokesman 101 that you don't use the words "excreting" and "swallow" in back to back sentences?
--Prince got a divorce?! Prince was married?! Why we have yet to see a pay per view one-on-one game between Prince and Charlie Murphy is beyond me.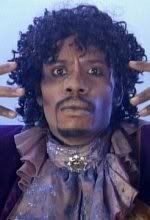 --It's no secret I have a fantasy football problem. I've been looking at some average draft information to get an idea on where certain guys are going. If you want to join me in my pathetic endeavor,
here ya go…
--Want a happy ending?
Are you sure?

--Reason # 243 why SportsCenter is pretty much worthless now…On Tuesday Danica Patrick left Rahal-Letterman racing and of course, those crazy and very entertaining SC anchors came up with a knee-slapping, side-splitting top 10 list of reasons why she left the Letterman racing team.
--Reason # 244 why SportsCenter is pretty much worthless now…The Budweiser Hot Seat has always been lame, but putting their own analysts on the hot seat is just silly. Unless they put Harold Reynolds on the hot seat then I'm watching. I'm sure you know this by now, but HR was fired for multiple sexual harassment violations. Little League coverage will never be the same.
--I can cross Teacher Man off my summer reading list. Teacher Job still on my list, unfortunately.
Questions, comments or if your iPod is broken and you don't know why you still get out of bed in the morning.