D-Day

That 'D' stands for draft, but I guess can also stand for dumb considering the oh so wonderful past Houston draft selections like Dave Ragone, Charles Hill, Jason Babin, etc. Oh well, what's past is past and this draft, like the offseason, is the Texans rebirth. Like everyone else after the Rose Bowl I wanted to see Vince Young come home. As time passed I got back on the Reggie Bush bandwagon that I hopped on last year about Week 8. Reggie is absolutely incredible and absolutely the right pick for this team. I don't understand the supposed Texans fans who will become Titans or heaven forbid, Cowboys fans when Houston passes on Vince. However, having said (written) that if the Texans trade down or draft Mario Williams, well let's not think about those possibilities.
Reg-gie! Reg-gie!
Can't nobody hold me down.
--So I'm switching between ESPN's draft special and the replay of Ohio St/Texas on Classic. Sean Salisbury just said that not Vince, not Leinart, but Brodie Croyle is the best leader among the quarterbacks. This is not new, but Salisbury is an idiot. A complete and total idiot.
--Easily the most intriguing player in this draft is this Vince Young guy. I want to see him go high, but not to the Titans. Please not to the Titans. Please don't let the Texans have to play this ridiculous talent twice a season. All the best Vince, just not in Tennessee. By the way, you can follow his rookie season wherever it is when Vince's reality show on B.E.T. premieres. I'll have a date and time on that next week.
We'll always have Pasadena.
--The top pick is huge, but the next three selections will be just as vital to the success of this franchise. The Texans can't afford to blow those selections. I don't see how they can considering all of the positions of need, but we'll see. Personally I'd like to go defense with that 2nd round pick and take Ohio State linebacker Bobby Carpenter. Let's take a look at the wide wonderful world of mock drafts to see what the Texans will do with the draft in the first few rounds…
nfl.com- Reggie, LSU OT Andrew Whitworth
Scouts Inc.- Reggie, Miami OT Eric Winston, Georgia G Max Jean-Gilles, Texas DB Cedric Griffin
Mel Kiper Jr.-Reggie,Eric Winston, South Carolina DB Ko Simpson, Ga Tech LB Gerris Wilkinson
Gbnreport.com- Reggie, Auburn OT Marcus McNeill, Texas, DT Rod Wright, Indiana DE Victor Adeyanju.
Footballsfuture.com- Reggie, OT Marcus McNeill, LB Gerris Wilkinson, Abilene Christian DB Danieal Manning.
Saturdays2Sundays.com- Reggie, Penn State DE Tamba Hali, DB Cedric Griffin, OT Andrew Whitworth
Nfldraftalmanac.com- Reggie, Texas OT Jonathan Scott
Profootballtalk.com- Reggie, FSU CB Antonio Cromartie
That's all, I'm tired of surfing.
Taking Care of Business
Before the Dodgers series it was pretty boring watching the Astros roll to the World Series. Now it's just boring while the Houston starter is in. After that, it's on. I'm not pushing the panic button on Brad Lidge, but he's allowed more home runs (3) than anyone except Andy Pettitte. Lidge's ERA is now worse, worse than Chad Qualls'. His 10 walks are tied for the team lead. No need to dial 9-1-1, but it's not a bad idea to dial 9-1 and wait while watching the next few save opportunities.
--Wandy is 4-0. 4-0?! Where did this come from? He has more quality starts than Roy Oswalt. In 4.1 fewer innings he has only two fewer K's than Roy. I almost hesitant to talk about how good of a roll he's on because I'm afraid I'll jinx it.
--So who leads the team in on-base percentage? Not Lance Berkman, not Morgan Ensberg, but none other than Brad Ausmus.
--Jason Lane is tied for the team lead in walks with 19. Last season he got his 19th walk on July 19th.
Quick Hitters and Random Thoughts
--From the same people who brought you the script poster of Reservoir Dogs comes this one with Bob Marley created entirely out of the lyrics on the Legend album.
Fantastic.
--Maxim came up with a list of the five most whipped athletes. # 5- Kurt and Brenda Warner. # 4- Antonio and Kendra Davis. # 3- Nick and Danielle Harper (the wifey who stabbed Colt DB Nick with a knife before the Pittsburgh game). # 2- Kris and Anna Benson. # 1- You and I both know it has to be Doug and Jackie Christie and….wait for it…it is.
--They don't come much harder than Michelle Rodriguez/Ana Lucia. She was recently arrested for drunk driving as was Libby from
Lost
. Michelle was given a choice of 240 hours of community service or five days in jail. She chose jail without batting an eye. I wouldn't be surprised to see this crazy woman killed off on the show. Also the newest
Lost
real life couple is Boone and Shannon, which is just a little gross. I mean c'mon you're brother and sister.
--Once upon a time Chris Rock hired Hollywood detective Anthony Pellicano who is now in a bit of trouble. When Rock hired him it was to investigate the claims of a Perfect 10 model who said the baby she was having was Rock's. It was not. Not a bad google image search: Monika Zsibrita.
--Quentin Tarantino is going to direct the biopic on Jimi Hendrix?! That's a very promising thing.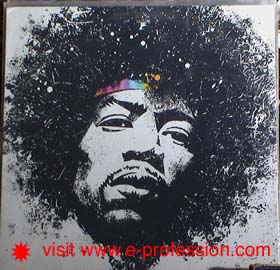 --If you wanna compare your gas price horrors to other places around the country.
Here ya go…
--Denise Richards and Richie Sambora?! C'mon Denise you're better than that.
--Ashlee Simpson will "perform" in The Woodlands come June 16th. Oh boy!
--Al Pacino in
Ocean's 13
?! However, no Catherine Zeta-I married a very old man or Julia Roberts.
--This week back in 1996 L.L. Cool James' "Doin' It" was certified Gold. Probably should have left music at that point, but whatever.
--19 years ago this week "The Joshua Tree" hit # 1 on the album chart. Bon Jovi's "Wanted Dead or Alive" broke into the Top 40. "Brass Monkey" peaked at # 48 on the singles chart. That, my friends, is a very good week.
--I know you're wondering what happened during last weekend's pay-per-view séance to see how things were going for John Lennon (still dead). Apparently Lennon's message was, "Peace – The Message Is Peace." I know you're saying this is all crap and the Electronic Voice Phenomenon used in that awesome movie known as
White Noise
is b.s. But EVP specialist Sandra Belanger has examined the tape and declares it to be the voice of John Lennon so there ya go.
--One of my cooking heroes, Mario Batali, has a new $12 million dollar restaurant, Del Posto, in Manhattan. I'm not saying this is the most expensive restaurant in the world, but valet parking is $29. The dish creating all the talk is a pasta dish with black truffles, coxcombs, and duck testicles. Let Mario tell you how those taste, "They're delicious, they don't taste like anything you've had before. They're whole and they're white." Mario's- whole and white. South Park's Chef- chocolate and salty.
--Your dumbass of the week comes to us from Oregon. There 20-year-old Dusten Williams was arrested the other day outside of a middle school. Why? This genius thought it would be funny to stand outside the school and wave a fake Glock around and even stick it in a student's stomach. Oh, did I mention his getaway transportation was a skateboard? Oh, did I mention he painted his face to look like Darth Maul? Thankfully the
Smoking Gun has pics…
--If you are dumping your bags of vomit in Mount Pleasant, Iowa the police would like you to stop. Apparently over the past three years over 50 bags of all sizes filled with vomit have been dumped in ditches in the northeast part of the city.
--Cindy Margolis will pose for Playboy. If you saw the P. Diddy produced
Celebrity Cooking Showdown
you saw her bounce and jiggle her way to victory over Sami from
Days
and Tony Gonzalez.
--That freak of a teacher, Pamela Rogers, whose MySpace we talked about a week or two ago is in trouble. Somehow the police figured out she was referring to her 13-year-old lover when on her MySpace she mentioned his basketball jersey number instead of his name. Apparently she also sent a porn video of herself to the kid. I'm sure it's just a matter of time before that video surfaces online.
The Teach
B-Ball
I've watched little of the NBA playoffs and apparently I haven't missed all that much. Wake me when the Spurs and Pistons go at it.
I can't believe it, but I actually kind of agree with Ron Artest on something. Artest got suspended because it was him, not because it was a vicious foul on Manu Ginobili. I don't have a huge problem with that, although I think a suspension was a bit much. Afterwards he said,
"They're changing the game from how it was back in the days, back when the game was really hardcore. The game was so hardcore back when Larry Bird played and Bill Walton and those guys
.
Those guys were playing hard. Larry Bird, Michael Jordan, the Detroit Pistons. Those guys were playing flat-out hard and aggressive. And now, it's like they're changing the game. It's a new game. All the records that everybody's setting, like LeBron James and all these new stars, they're very good, but it's not like it was back in the day. All the scoring titles and everything; it's easier to score now. The whole game is so soft now. I was watching a game on ESPN Classic today, and guys are fighting each other and stuff. Nobody got kicked out. That's a long time ago. And this is just a minor, minor, minor incident, and they could've given me a flagrant one and a fine, but they want to take a whole game. It's very disappointing."
I was watching the same games on Classic and completely agree with his entire take.
Questions, comments, or if you want to slap that anorexic blonde on The Real World…