Let The Madness Begin…
Idiot that is me is flying out to Atlantic City Thursday afternoon ensuring I'll miss the meat of the action on the first day of this most holiest time of year. Oh well, by the time I land the damage will, no doubt, be done to my auction team and bracket pools and then I can simply concentrate on the games themselves. My Elite 8: Duke, Texas, Kansas, Gonzaga, UConn, North Carolina, Villanova and Florida. Final Four: Texas, Kansas, UConn and 'Nova. I'll take UConn over Kansas to win it all. Now you know how not to fill out your bracket.
Yao and uhhh…uhhh…

What else can go wrong with the Rockets this season? Granted a lot of their problems have been self-inflicted, but geez is it to much to ask that the rotation players all be healthy at the same time for a 10-game span? Obviously losing Tracy McGrady is a huge, huge loss, but David Wesley was easily the team's most consistent 3-point shooter. He's been ice cold since getting banged up earlier this month, but you figured he'd turn it around and boom now he's week-to-week with a cracked rib. Such is life for the '06 Rockets. The only positive continues to be the dominance of Yao. It's gotten so good that a 36-point, 9-rebound night was considered an off-night against the Nets. Is anyone going to help him out? I doubt it. It's not for heart or lack of desire, it's just a lack of talent. You can't take all of these hits and expect to make up ground in the playoff race especially with the schedule getting tougher by the game. The Rockets close out the week against the Mavericks and Spurs. Good luck with that.
--
NBA.com has a dance team bracket. The Power Dancers
have advanced to face whatever the Nuggets' girls are called. Rocky Mountain Hos?
Quick Hitters and Random Thoughts
--This will be the only time I update this week because this weekend I'll be in the original Vegas, Atlantic City for the Rahman/Toney fight. I wasn't overly excited about this fight when it first came about, but as it draws near I'm thinking it's going to be the most entertaining heavyweight match up in a long time. It's a division that boxing needs to be popular so it's a bit sad that its hopes for the immediate future hinge upon two guys well into their 30's. However, until some of the kids are ready James Toney and Hasim Rahman can make things interesting. Toney always brings the skills, which are only surpassed by his mouth, and that's a good thing for a division seemingly void of personality. Rahman has been champing at the bit after all the postponements with Vitali Klitschko and a lackluster win against good friend Monte Barrett. Evidently he's got his house in order now both physically and mentally. The best part about the first big heavyweight fight this year? It's not on pay-per-view.
A long, long, long, long time ago.
--Props to Kostya Tszu for making it past the third round in Australia's version of
Dancing with the Stars.
--I know most aren't paying attention, but these World Baseball Classic games have been on! The crowds here have been okay, but those games in Puerto Rico are freakin' ridiculous. I wish the U.S. was playing there in front of those raucous fans. Well, maybe not, considering they can't even beat inferior competition on its own soil. Yeah, they'd roll if our best were actually playing, but they're not so no more whining about who's not there. Just take care of business…without the help of the umpires.
--What a joke that Isaac Hayes is leaving
South Park
because it promotes intolerance and bigotry. Just because the boys ripped on Hayes' religion, Scientology, he got all upset. Trey Parker and Matt Stone sum it up, "This is 100 percent having to do with his faith of Scientology... He has no problem - and he's cashed plenty of checks - with our show making fun of Christians. He wants a different standard for religions other than his own, and, to me, that is where intolerance and bigotry begin."
--Did Meadow put the Bada in Bada Bing! last week on
The Sopranos
or what?
--Rest easy America, The Cars and Genesis are both reuniting.
--I'm not trying to be rude or mean or anything like that, but why was Miss Deaf Texas walking along train tracks before she was sadly struck and killed?
--A long, long time ago in a land before reality television Fox tried
Fastlane
. It sucked, however more scenes like this between
Tiffani Amber Thiessen and Jamie Pressly
might have made put it on the Mount Rushmore of television shows.
--Because I know you care Flava Flav chose Hoopz over New York on
Flavor of Love
. Okay, that's done and now it's time for Flav and VH-1 to take a break from each other.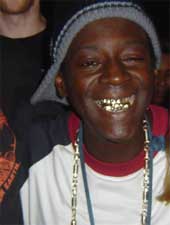 --
Welcome Back, Kotter
with Ice Cube taking over for Gabe Kaplan?! Does that mean Freddy "Boom Boom" Washington is going to be white? At least Ashton Kutcher finally has the role he was born for in Vinnie Barbarino.
--Teri Hatcher and Ryan Seacrest?!
--Those wacky guys of the ECHL's Las Vegas Wranglers are holding a "Dick Cheney Hunting Vest Night." The club will give fans hunting vests with the words, "Don't Shoot, I'm Human" emblazoned across the front.
--Website I won't be visiting…dogcondoms.com.
--Myspace.com profile of the week comes to us from
The Boondocks
.
Gotta love Grampa
.
--Your Mother of the Year candidate comes to us from St. Paul, Minnesota. There a 3-year-old boy found mommy's 9mm handgun. Silly boy. Mommy took the gun and the bullets, except for the one in the chamber, and cleverly hid the gun underneath the cushions in the couch. Some how, some way the boy stumbled across the gun again. This time when the boy picked it up it fired shooting mommy in the kneecap.
--Angelina Jolie in
Sin City 2
?!
--John Travolta will portray J.R. Ewing with J-Lo as Sue Ellen?!
--I don't think I need to tell you, but Will Ferrell, did, in fact, not die in a freak para-gliding accident this week. How great was it on
Family Guy
when Stewie watched Will Ferrell on
Bewitched
answer Nicole's character who says, "Guess what? I'm a witch," with, "Guess what, I'm a Clippers fan." That prompted Stewie to leave without saying a word, fly to L.A., take a taxi to Will Ferrell's house, climb a ladder, ring his doorbell, and then slap the **** out of Will screaming, "That's not funny!!!" Funnier than I just described it.
Questions, comments or if you want me to bring you back some salt water taffy from Atlantic City…