Nice Try

The Rockets had won 7 of their last 8 before Thursday's game against Phoenix making me think that this could be the start of another late playoff run. Well, guess not. The Suns dominated them in every way imaginable. And once again Houston gave up before halftime, maybe even before the tip. Just disgusting and not worth reflecting upon anymore today.
Lots O' All Star Bits
--Most career 3's made? Ray Allen, Kobe, and….Jason Kidd with 11 apiece. Jason Kidd?!
--Most free throws made? None other than Elgin Baylor with 78!
--Despite playing in five fewer games Michael Jordan outscored Kareem 262-251 to lead all scorers.
--Hakeem had 94 rebounds in his 12 games, which is strong. In 13 games Wilt had 197 rebounds which is just stupid.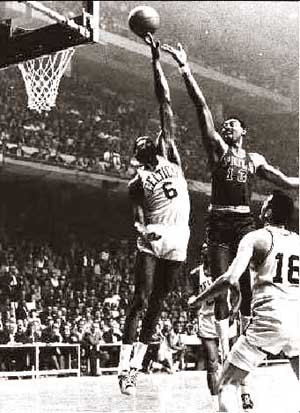 --Congratulations to Rick Barry and Bob Cousy for being the only players ever disqualified from two All-Star Games. How does that happen once, much less twice?
--The all-time leader in scoring average is Kobe with 20.8 just ahead of Oscar Robertson's 20.5.
--Clyde is one of four players who have at least 10 free throws attempted without missing one. The other three are Archie Clark (of course), Kevin Garnett and Gary Payton.
--This one will never fall…the all-time single game rebounding record…27 for Bob Pettit back in '62.
--Your top five active players with the best field goal percentages (15 FGM minimum)…1. Penny Hardaway- .625, 2. Dikembe Mutombo- .595, 5. Steve Francis- .552.
--Last white guy to win the MVP award with no co-attached to it (sorry John Stockton)? None other than Larry Bi…err..Tom Chambers.
--Maybe you remember, maybe you don't but the man, the myth, the legend Stromile Swift finished 4th in the 2001 dunk contest. How did Doug Christie make the dunk contest back in '96?
the good ol' days
What's In A Name?
I can't believe that 1836 is going to be replaced. I am one half Mexican so half of me does care about futbol (that's a lie). I just don't see what's so wrong about the year 1836. That was a long, long time ago. This is Houston, Texas and was founded in 1836 because the Texans battled like Texans battle. And I seem to remember something about an Alamo somewhere. I just don't understand how this possibly could offend anyone. Why? Because your ancestors ancestors ancestors got worked over. Get over it. I don't think African-Americans were having all that much fun in 1849, but that didn't stop the San Francisco 49ers. 1776 wasn't a good year for that race or those people across the pond that speak funny and don't brush their teeth, but the 76ers aren't going anywhere. Hell the Great Chicago Fire killed hundreds of people and yet Fire is Chicago's MLS team's moniker. Does that make sense? Look at what this land by the bayou has become. I'm thinking if 1836 never happened that this land wouldn't be hosting the NBA All-Star Game this weekend. I'm thinking if 1836 never happened people would come to this land from the north only when they needed drugs, sex, or to watch a donkey and I'll stop there. I'm thinking if 1836 never happened then we'd be picking up the paper and reading about journalists, police officers and city officials dying because they didn't lay down for the drug cartels. I'm thinking if 1836 never happened I would have never happened. I'm thinking that 1836 happened for a reason, a good f'n reason and that's so 170 years later a soccer team, that no one cares about anyway, would have a name that the city's citizens, no matter what color of the rainbow they be, would have a name to remind them when the start of something big happened along the bayou.
Quick Hitters and Random Thoughts
--Not to long ago Kristy Swanson would be a high seed in everyone's Babe Brackets, but out of sight, out of mind. She landed on
Skating with Celebrities
, which leaves her even more out of sight. However, a nice scandal might liven things up. Kristy has hooked up with Lloyd Eisler who is her partner on
Skating with the Celebrities
. Yeah, Lloyd is married to Marcia O' Brien right now and according to her she kicked him out of the house when she learned about the affair. Oh yeah, she's also pregnant with the couple's second child.
--Best news of the week. The Killers are expected to hit the studio this week to work on album number 2.
--Twenty-seven years ago this week the Grammys were dominated by the Saturday Night Fever soundtrack, which won Album of the Year. Yeah, I have it on my iPod, what of it? Anyway that same year Billy Joel's "Just the Way You Are" won Record of the Year.
--I've mentioned the drunken escapades of Michelle Rodriguez/Ana Lucia. There were rumors she was going to be killed off of
Lost
, but the creator says that's not the case. We'll see. How sweet was it to see the clock roll to zeroes this week?
--If you're keeping score at home, Tom Sizemore is back in rehab.
--Last week's trailer of the week was Nacho Libre. This week we take a look at
Will Ferrell's NASCAR comedy
.
--Your dumbass principal of the week comes to us from Georgia. That's where Ed Rohrbaugh emailed pornographic pics to faculty members under the title, "It is large breast appreciation week once again." Smart move.
--Albert Belle arrested for stalking an ex-girlfriend?! When reached for comment Belle said, "You didn't write a story about my Hall of Fame induction. You guys never report the good stuff that I do." Good stuff you did? Hall of Fame induction?? Don't think you made it there Big Boy and I don't think you will.
--I don't know if I really want to type this, but I will because it's funny in a painful, painful sort of way. Some Serbian guy the other night wanted to find a way to keep his boy strong for an all-night sex session. So before he and his new Serbian squeeze had relations this genius decided to forego Viagara for a thin pencil that he stuck right in his #@%@ that had to hurt. You're not going to believe this, but he had to go to the hospital. Yeah, the pencil shifted and became lodged in his bladder. OUCH!
--It's 2006 and time to prop Kansas for now just getting around to making sure its residents can't marry beginning at the age of 12. The wise lawmakers are now hoping to change that minimum age to 16 with parental approval and 18 without it. I repeat, it is 2006.
--Some idiot in Hartland, Maine was having a horrible, no good, very bad day so he decided to go ahead and commit suicide. Suicide by crucifixion. Out-standing. The guy later told police he had not seen
Passion of the Christ
. This guy just decided this was going to be the way he went out. So he made his wooden cross, got his hammer, nailed his hand to the cross, and then, well let's let Lt. Pierre Boucher describe what happened next, "When he realized that he was unable to nail his other hand to the board, he called 911." D'oh!
--Drudge Report headline I don't think I need to click on "Kentucky Fraternity in 'Goat Sex' Incident."
--How will the old white people who attend the Kentucky Derby be able to enjoy this year's festivities without Pamela Anderson? The former Tool Time girl is boycotting because, "It makes me want to avoid Kentucky altogether, which is sad because there are so many great people there. I don't want to support cruelty to animals, whether it's forcing horses to race for our amusement or scalding chickens alive for our plate." Who goes to horse races to be amused?! It's all about the Benjamins baby. That and a chance for Kenny Mayne and Hank Goldberg to get airtime. Can't wait for ESPN's live coverage of the always exciting Derby Draw.
Mr. Mayne in his quarterbacking days at UNLV.
--I'm pretty sure this is a load of crap, but supposedly some director has tabbed Paris Hilton to play Mother Teresa in a biopic. Uh-uh.
--In "can't believe it's taken this long" news…Kid Rock has a sex tape (including Scott Stapp) that is making the rounds and View producers are looking to get rid of Star Jones who we thank God every day has no sex tape out.
--Your next Bond Girl is Eva Green.
--Why are people acting surprised that nobody is watching the Olympics?
--Let's see how things are going for Bode Miller, "Fame is like a poison. I don't care for it. I used to have a better life when I was nobody." Don't worry you'll be back to nobody status lickety-split.
Questions, comments, or if you got the time we got the beer