Well, That Sucked
It wasn't a big surprise the Texans lost on Sunday, but that doesn't mean it didn't suck. The Falcons could just as easily been 3-0 or 2-1 as they were 0-3. As you could see the offense has signs of life even with Joey Harrington who looked better than David Carr ever did especially against the blitz. The Falcons D was solid and downright dominant against Ephraim Salaam. John Abraham just destroyed him in the second half. Gary Kubiak shouldn't go to sleep at night until he plays 10 games of Madden just running plays for the final 5 minutes because to say his clock management needs work is like saying the Notre Dame offense needs just a tweak or two. This week the terrible, horrible, no good, very bad Dolphins. This cannot, CANNOT be a loss.
--Okay secondary if not this week than when? No one has thrown more INTs than Trent Green (7).
--Congratulations to Kris Brown who joined Nick Folk as the only employed kickers who have missed a field goal of 30 yards or fewer this season.
--The Patriots get Rodney Harrison back this week, yeah, they really need him.
--I should have known better than to take Steve Smith on a couple of my teams knowing that David Carr was one Jake injury away from ruining Steve's season. David was beyond awful the other day against Tampa. Not until late in the 4th could he even get the offense past Tampa Bay's 45-yard line. There's no way Two Gloves will be in the league in 2 years.
--Marc Bulger, Matt Leinart and Drew Brees are 28 th, 29th and 30th in passer rating behind the likes of Alex Smith, Kelly Holcomb and Trent Green.
Seriously Salman Rushdie used to hit this?
--Seriously Steven Jackson + Larry Johnson + Rudi Johnson + Laurence Maroney + Willis McGahee = 0 TDs.
--Julius Jones – 3.5 yds/carry. Marion Barber – 6.4 yds. Gee, I wonder who should be getting the ball more?
--Cedric Benson is the only RB who has fumbled more than twice.
--Until the New England game ever catch Chad Johnson had went for a first down. He's now 27-28.
--Tell me Emmitt did not say the Patriots were a better golf club than the Bengals.
Quick Hitters and Random Thoughts
--How are you not taking the Rockies to get to the World Series?
--What a FANTASTIC fight between Jermain Taylor and Kelly Pavlik on Saturday night. We had Manny Steward on last week and I couldn't believe how much he was crapping on Kelly's chances. Kelly had shown a lot more in his recent fights than Jermain had. I know it was tough for Jermain to look good against the likes of Winky, Bernard and Cory Spinks, but he didn't give off the same vibe he had earlier in his career. When Kelly survived that barrage that knocked him down in the 2 nd I knew he'd be fine. I didn't know the judges would somehow have Jermain up at the time Kelly stopped him in the 7th. That was ridiculous.
--Leon is killing on
Curb
! He's Curb's Murray, just owning every second he's on the screen.
--Just name Helio Castroneves the winner of
Dancing
already.
--Was there ever any doubt Hung was going to win
Top Chef
?
--Sadly the rumors of the
Deadwood
movies are dead. I f'n miss my motherf'n boy Al F.U. Swearengen.
--
Friday Night Lights
returns Friday night, which makes no sense. Thanks NBC. You have one hour-long show worth watching and you put it on the worst night possible.
Landry going out for the team?!
--Jennifer Aniston and Orlando Bloom?!
--Look at one point or another we've all passed out in our car with the motor running. Mine happened a long, long time ago in an apartment complex far, far away when my girlfriend and I entered a Rumpleminze-induced coma at some party, but I digress. A husband and wife in Largo, Florida passed out behind the wheel of their car with the motor running the other day. Some firefighters passed by and woke them up in addition to waking up their one-month-old baby who was in the backseat. One-month-old?! Child abuse charges for both and DUI for daddy, although he didn't drive unless that 'D' stands for Dumbass.
--Shane on
Weeds
as he puts the blunt to his lips: "This is the moment where I finally become cool, right?"
Isabelle: "No, just stoned."
Best graduation speech ever!!!
--I think we can close Mother of the Year balloting after we hear this candidate's story. Wendy Cook is a 37-year-old prostitute in Saratoga Springs. She was busted the other night after offering an undercover cop "a good time." Mommy had been smoking crack all day and nearby the cops found her 5-year-old daughter (she's gonna turn out all right, I'm sure) and 8-week, 8-WEEK-OLD son in a car with a couple of adults. The cops discovered mommy had already given oral pleasure? to a couple of johns that morning WITH the kids in the backseat. They also discovered Mommy (and this is when we hand her the prize) snorted coke off of her 8-week-old's stomach while she was breastfeeding him. O….M….G…
--
SNL
accidentally had a funny skit...
--Sour Nerds are what I'm gunning for this Halloween.
--Aight,
30 Rock
you get a shot this week.
--We'd all like to live in the mall, especially a mall with a pizza place other than Sbarro's. Michael Townsend is an artist and set up shop at a mall in Providence. He built himself a loft in the mall's parking garage. Somehow the guy was able to construct a 750-square-foot apartment without anyone noticing. He set up a cinderblock wall and a utility door. Dude even had a PS2 in it until some bastard broke in and stole it. So one day Michael comes "home" and instead of laying out plans for a wooden floor, three security guards meet him inside. So how long did Michael have his mall loft? Four years!
--Radiohead is offering its new album for free on
inrainbows.com
?!
--
Cavemen
premiered Tuesday night. Anyone notice? Anyone not hate it? Didn't think so. Way to ruin a perfectly fine set of commercials.
--Kate Hudson realized she was dating Dax Shepard, not that's over.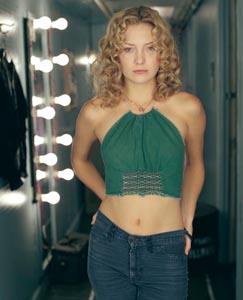 --"I'm not superstitious, but I am a little stitious." – I missed you
Office
. How puppy dog in a sailer outfit cute is PB & J?!
Questions, comments or if you got flashed at Timeout this week…