Quick Hitters and Random Thoughts

--Gettin' closer...
--The next edition of
The Contender
begins next month on ESPN. Trainers Tommy Gallagher and that other guy are gone replaced by Buddy McGirt and Pepe Correa. Also this group of fighters will have more experience than past groups and more of the fights will be shown during the 60 minute show and the entire fights will also be broadcast at some point (took long enough).
--If you missed Israel Vasquez and Rafael Marquez, you screwed up.
--Thanks for the thrills, Erik Morales.
--I still have yet to catch
The Coreys
, but I did come across this line, which will likely never be topped. Corey Haim to Corey Feldman's wife, "Face it, you're not one of the Corey's and you never will be!"
Paula Abdul thinks Corey Haim cries too much for no reason.
--Best news of the week…
Weeds
returns this Monday night at 9!
--I've never been to Anaheim to watch the Angels play so I haven't eaten there which is something I have going for me. Over the last 2 and a half years it has received 118 vermin violations. Thirty-three of those were "major violations" for "rodent activity." Over the same time period Petco Park and Dodger Stadium combined had just 9 similar violations. Overall food safety violations since 2005 at Anaheim Stadium – 1,479. Yum!
--Your crazy man of the cloth this week comes to us from Denver. Reverend Robert Whipkey enjoys jogging at the local high school track just before sunrise when it's nice and cool….and he's also less likely to be seen jogging in all his nude glory before God. The Reverend told cops he sweats too much if he wears clothes while running.
--
Rappin' With The Stars
on MTV?! Nick Carter? Nicole Eggert? Perez Hilton? Oh boy.
--Seriously Angie Everhart and Joe Pesci?!
--Both Fiddy and Kanye are dropping new albums on September 11th. Apparently they may also take part in a debate to argue who has the better album. Yeah, I think I'll take Kanye in this one. Bodog is taking bets on whose first day album sales will be higher...Fiddy is the favorite.
--Siskel and Ebert are funny.
--Ridley Scott with a movie version of
Monopoly?!
--Ding, Dong
The Simple Life
is dead. So is its bastardized version which was to feature Kelly Osbourne and Kimberley Stewart. Now E! is going with some show centered around Kim Kardashian and her T & A and maybe her sisters too.
--Kristen Bell is gonna join
Lost
?!
--Great news for those of you who need your Billy Spanoulis fix. NBA Live '08 will have eight international teams including Greece and China.
--Lil' Romeo is not going to be on USC's basketball team, right?
--Dax Shepard somehow convinced Kate Hudson he was good for her. This quote from Kate in
Harper's Bazaar
reveals just how lucky Dax is, "As primal beings, men are not supposed to be monogamous. When people ask, 'Do you believe in monogamy?' Well, of course that's what you want. But part of what I love about men is that it's hard for them to be monogamous. Women, I think, need to spend more time understanding men than changing men. And vice versa."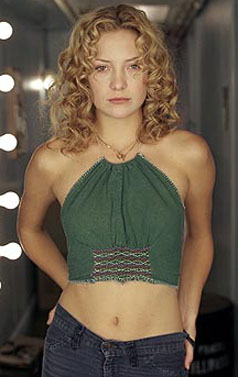 --You really may have a hard time believing this, but July was the rainiest month in Texas since 1903.
--If you were wondering how cops in Thailand are disciplined when they screw up and I know you were…Cops who commit minor infractions like littering or being tardy will now be forced to wear pink armbands with Hello Kitty on them for an entire day.
--Kobe and the lovely and apparently extremely understanding Mrs. Kobe may or may not be getting a divorce. Either way probably would've been a smart idea to get a prenup Kobe.
----Best news you will hear today...NBC will bring you the viewer 3,600 hours of coverage from the 2008 Olympics in Beijing!!!!!! Can you stand the wait!!!!!
--Rocky Juarez and Juan Manuel Marquez on September 16th. Good luck Rocko, you're going to need it.
--F-Cup Cookies?! Yep, new from Japan these wonderful cookies contain 50 mg of a breast enhancing herb, so there ya go.
--How hilarious does Super Bad look?

--Sure thing Rookie of the Year Ryan Braun hit his 21st HR on Monday. That's the fastest to 21 since some guy named Mark McGwire did it back in '87.
--Jonny Quest live-action movie in the works.
--Gotta love Yankee rookie Shelley Duncan using Icky Thump as his music when he steps to the plate. Ryan Freel cannot possibly come out to Tom's Diner, right? I mean why would he want everyone in the stands to get that earworm for the rest of the night. Big shock, Mike Myers comes out to Halloween.
--Nothing makes you feel alive like the sting of a jellyfish. More than 400 swimmers at a beach in Florida over the weekend were stung. In case you are keep in mind that rubbing fresh water over the sting only reactivates the toxic poisons.
Questions, comments or if you're mad that you didn't think to invent a Michael Vick dog chewtoy before that company in Florida did...