Steel Curtain…pft…Whatever

There's no Texans loss or win to review so let's take a trip back to the second greatest win in Houston Texans' history….It was a cold, wet December day when we touched the ground at JFK. Snow was melting on the grou…wait that's Angel of Harlem. Our story begins in Pittsburgh on December 9th in the year of our Lord 2002. Now I know that was a loooong time ago so to set your mind in the right place…Dubya fainted after choking on a pretzel, Stephen Colbert filled in for Jon Stewart an entire week, Left Eye left us as did Davey Boy Smith, Spider-Man was the first movie to open 100+million in its opening weekend, and so on. Anyway, the Texans were 13.5 point underdogs. Jermaine Lewis returned rookie kicker Jeff Reed's kick 31 yards to the 37 yard-line and away we go. You might not believe this, but David Carr was sacked twice on the first drive before punting. On their first possession the Steelers had back-to-back false starts leaving Tommy Maddox a 3rd and 18. Maddox was in the shotgun and scrambled for 5 yards before, basically, throwing the ball down for Kenny Wright to pick up and run in for a touchdown. Houston 7 Pittsburgh 0.
Steelers' 2nd possession, 2nd and 11 at HOU 35. Maddox drops back and throws it towards Plaxico, but
Aaron Glenn picks it off and 70 yards later…
Houston 14 Pittsburgh 0.
Steelers' 3rd possession ends in a Randle-El fumble picked up by Jason Simmons, but sadly he didn't run it in. Just before the half Pittsburgh gets on the board with a field goal to make it…
Houston 14 Pittsburgh 3
After another Reed field goal to start the second half…
Houston 14 Pittsburgh 6
Early in the 4th Reed missed a 43-yarder.
Then this from your Houston Texans...1st and 10 HOU 33…James Allen over left guard 3 yards. James Allen over right guard 6 yards. James Allen over left guard -3 yards. Classic. So Pittsburgh gets it back trailing 14-6 with almost 11 minutes left. It drives behind the running of Amos Zereoue and the catching of Terance Mathis. On 3rd and 3 from Houston's 18, Zereoue rumbles 17 yards down to the 1-yard line. But ohhhhh, holding on Hines Ward makes it 3rd and 13 from Houston's 28. Then on 4th and 3 Maddox gets sacked by Gary Walker and James or Jeff Posey (I forget which one). Then and you won't believe this, but Houston gets the ball and goes three and out. So punt to Randle-El who muffs it at his own 20-yard line allowing Troy Evans to recover. The Texans run the ball three times losing 5 yards and then kick a field goal to make it…
Houston 17 Pittsburgh 6
Pittsburgh gets the ball, drives to a 4th and 2 at Houston's 38. Tommy Maddox passes the ball to Aaron Glenn, which was nice because Glenn plays for the Texans.
Another TD return and it's...
Houston 24 Pittsburgh 6.
Ballgame. Go crazy, folks!! Man, I used to like this team.
--Hines Ward summed it up, "That was the most crappiest performance ever."
Aaron Glenn, "We're not the typical expansion team. We're not going to lay down and say, 'Oh, we're not supposed to win, we're an expansion team.' We have nothing to lose, we're trying to be a spoiler."
--Texans had three points on offense, three first downs and 47 whole yards of total offense, the fewest ever, ever in a win.
--David Carr was 3 of 10 with all 3 completions going to Billy Miller. Jonathan Wells ran 10 times for 12 yards. Jamie Sharper had 2 sacks. Kailee even had 1. I'm not sure, but that might be the only game that season in which the Texans outsacked their opponents (5-4). The Steelers outfirstdowned (it's a word) the Texans 24-3. Houston converted 1 third down play and committed only 1 penalty. Time of possession 39:41 to 20:19.
--I don't know what Daunte Culpepper and Nick Saban's argument about whether Daunte should play consisted of, but all Daunte had to say was, "Joey Harrington?! C'mon, coach, Joey Harrington?! C'mon….C'mon…C'mon"
C'mon
--Tom Brady is 53-2 when leading at the half. And now that the Patriots have Jabar Gaffney you might as well give Brady another ring now.
--Keyshawn is averaging 13.8 yards a catch. Steve Smith – 11.3. Wow.
--Look, I like Reggie Bush more than the next guy, but ESPNews using its bottom corner for "Breaking News…Reggie Bush scores 1st NFL TD" for four hours is just ridiculous. That play doesn't even get on his best of DVD.
--The Texans are the only team to have picked off Donovan McNabb this season. He is your fantasy MVP to this point.
--Quote of the week from Giants RB Brandon Jacobs on Redskins S Sean Taylor: "He throws his whole body out there like he's got another one in the closet."
--Not that they apparently need to, but Florida is one of two schools that haven't kicked a field goal this season. Utah State the other.
--Yeah, there was a football game, but let's face it we all knew Texas was going to beat the crap out of Oklahoma. The only thing of interest at the State Fair was the jalapeno eating contest. Your winner, Richard LeFevre, who you may remember from the hot dog eating contest. I mean the guy is ranked 8th by the FCE (Federation of Competitive Eating, but you knew that) so he's pretty much a household name. 247 jalapeno peppers in 8 minutes netted him esophageal tears, waterfalls for eyes, and $2,000. That, my friends, is the life. Sonya "The Black Widow" Thomas had never eaten a pepper before the contest and she finished 2nd with 239. Christopher Huang ate just 53 and said afterwards, "I can't feel my face." Wuss.
Quick Hitters and Random Thoughts

--So I'm sitting down minding my own business Sunday afternoon when Albert Pujols comes up to the plate. Cla (no 'y' because he's got that) Meredith struck Pujols out. And then as Pujols walks away Fox decides, 'you know what the nation has never seen?', yep that's right Pujols taking Brad Lidge deep in Game 5. No mention whatsoever about the fact that the freakin' Cardinals lost the next game to the National League Champion Houston Astros. Not one mention of that. Just like when networks run Teresa Witherspoon's half-court shot to get the Liberty past the Comets in Game 2 back in the day. Big freakin' deal! The Comets came right back and showed the heart of a champion winning Game 3, but you'll never hear about that. Kids today grow up thinking that in 1999 the New York Liberty won the WNBA cup? title? belt? vase? and that's just wrong.
--Rambo is going to take on pirates next?!
--C'mon Chronicle can't we be a little nicer to the new guy on the Rockets. Putting Bonzi Wells' picture in between "Hall of Shamers" Terrell Owens and Albert Haynesworth is a bit much. If you're looking for a basketball player as an example ummmm how about Ron Artest or Stephen Jackson.
--Charlie and Kate will walk down the aisle.
--There are movie legends and then there are movie icons. Biff Tannen from Back to the Future falls under the latter category. Priceless.
--And here I thought David Barron listing the inaccuracies of Friday Night Lights was lame and petty…There's an entry on Wikipedia concerning the
inaccuracies of last week's South Park about the World of Warcraft or whatever it's called.

--If you had "lettuce" in the leafy green death pool, you win.
Run, fool!!!!
--The other day on e-Bay was none other than Alex Rodriguez. It got taken down fairly fast, but some of the seller's comments are below for your enjoyment...
"You are bidding on great regular season baseball player Alex Rodriguez. Now you may wonder why I listed him in the category of antiques. That is a fair question. The answer is quite simple. The baseball from his last playoff RBI is an antique. Casey Stengel has hit a playoff homerun more recently that Arod.
Now you may wonder what is Arod even good for these days. There are many things.
1.If you teach an EMS class Arod chokes all the time. Youll have tons of practice trying to revive him.
2.Arod is a perfect gentleman. He would never hit a woman. 2 days ago a woman walked up to him and kicked him in the balls, I asked her why she wasn't worried about him hitting her back. She told me she would never do that in April but had nothing to fear. Arod couldn't hit her in October if he wanted to. "
--Match.com did a survey to find out some of the weirder/funnier/mean ways gals have turned down guys for dates. Let's sample:
"A girl I liked said she wouldn't date people born the same month she was."
"She didn't think her father and I would get along."
"She told me it wasn't a good idea because she was anemic and was having her period."
And your winner, "She told me she had to go buy the donuts for her Singles with STDs group."
--Because it had Ray Liotta, Virginia Madsen and Amy Smart I gave
Smith
a chance. It was awful and apparently it's already been axed.
--I'm not sure if it's a bomb, but if you got your butt kicked by
Texas Chainsaw Massacre: The Beginning
that's not a good sign
Employee of the Month
. # 1 was
The Departed
followed by
Chainsaw
then
Open Season
and then
Employee
. Maybe one day I'll "get" Dane Cook, but that day is not this one.
--Because any history lesson on The Middle East that
can be taught in 90 seconds is worth clicking on…

--I can't believe Diego Corrales didn't make weight to fight Joel Casamayor. It was like watching Diego's ghost in there with Joel. He just had nothing in the tank. If this is the end of his career then thank you. If not, then good luck, be safe and be smart. Whatever has to be done to get Jorge Arce in the ring with Vic Darchinyan has to be done.
Sergio Mora and Fernando Vargas in January?!
--Apparently NBC is set to use
Battlestar Galactica
, which just kicked off its third season on Sci-Fi, as a mid-season replacement, much like the Astros did with Luke Scott. The results will be even better seeing as Galactica should be in HD and Tricia Helfer in HD is a good thing. It'll replace one of those numbered shows NBC just rolled out. I think one of them sucks.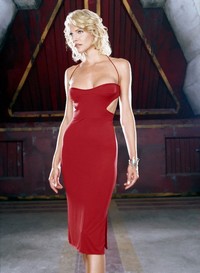 --Houston will beat Dallas on Sunday and got a head start with our city finishing 3rd in front of Dallas on a list of the most impatient cities. Austin beat everyone to finish 1st. Apparently it has more time-saving devices per capita such as quick copy places or wi-fi hot spots or speed dating services than any other of our nation's top twenty cities. Sounds stupid, but if we beat Dallas then it's not. Very simple.
Questions, comments, or if arguing correctly means you're never wrong…